Clarksville Police Department (CPD)

Clarksville, TN – Clarksville Police are trying to identify suspects in at least three smash and grab vehicle burglaries.
One of the vehicle burglaries was on January 4th on Hillcrest Drive and the other two were on January 9th on Lowe's Drive.
The suspects smashed the windows and stole two purses and one wallet which had cash, credit cards, and personal items.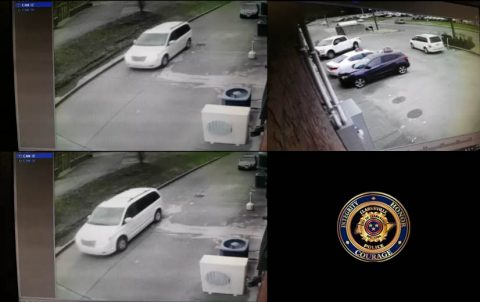 In each of the vehicle burglaries, the suspects were in a white 2000s model Chrysler Town and Country Van.
The video below clearly shows how suspects are checking vehicles and looking for items of potential value which are most likely in plain view.
Anyone with information can contact Detective Parkes, 931.648.0656. ext 5354, TIPSLINE 931.645.8477, or go online and submit a tip anonymously at P3tips.com/59
Clarksville Police would also like to remind people about "Park Smart".
Lock Your Vehicle
Secure or Remove Valuables
Take The Keys