Nashville Zoo
Nashville, TN – Children are invited to bring their favorite teddy bear or stuffed animal friend to Nashville Zoo's fourth annual Teddy Bear Clinic on Saturday, February 23rd, 2019 in the Zoo's state-of-the-art HCA Healthcare Veterinary Center.
After the public grand opening of the new veterinary center at 9:30am, the Zoo's Veterinary Department will be on call from 10:00am-3:00pm performing routine checkups on children's favorite stuffed animals.
During the event, there will be animal artifacts and learning experiences with Zoo docents, crafts, veterinarian dress-up play, a photo booth, animal encounters and more.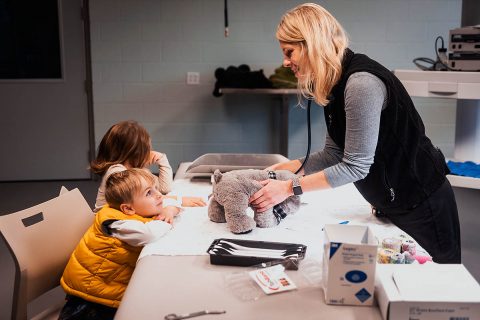 Children will receive a certificate of Beary Good Health at the end of the checkup.
Only children and their accompanying guardians participating in Teddy Bear Clinic will have access to inside the veterinary center during the public opening.
The Teddy Bear Clinic is free with Zoo admission or membership and no registration is required.
About Nashville Zoo
Nashville Zoo is a nonprofit organization and an accredited member of the Association of Zoos and Aquariums, assuring the highest standards of animal care and husbandry. The Zoo is actively engaged in conservation research, habitat protection, breeding programs and education initiatives around the globe as well as in our own backyard.
The Zoo attracts more than 1,000,000 visitors annually and is considered one of the top attractions in Nashville. Nashville Zoo is located at 3777 Nolensville Pike and is open every day except Thanksgiving, Christmas and New Year's Day.
For more information about Nashville Zoo, visit www.nashvillezoo.org