APSU Sports Information

Kansas City, MO – Two Austin Peay State University (APSU) men's basketball players are among the ten honorees for the National Association of Basketball Coaches 2018-19 Division I All-District team for District 19, the association announced Thursday.
Sophomore Terry Taylor earned a spot on the five-man first-team, taking NABC honors for the second time in his career.
Senior Chris Porter-Bunton nabbed a second-team spot, the first NABC honor of his long and distinguished Austin Peay career.
This marks the second year in a row multiple Govs earned honors from the NABC; Taylor and Averyl Ugba were both honored in 2017-18.
Taylor is now the sixth player in Austin Peay history to earn multiple NABC All-District selections in his career.
Taylor took his game to new heights as a sophomore, becoming just the second sophomore in Austin Peay history to average more than 20 points per game; he finished at 20.5 ppg and 8.9 rpg, shooting 53.1 percent from the floor and 74.1 percent at the free-throw line. His 675 points were the second-most in Austin Peay history by a sophomore and the ninth-highest tally of all time.

Taylor's rise up the record book allowed him to easily eclipse the 1,000-point mark in just two seasons on campus, making him part of a select group of six Governors who needed just two seasons in red-and-white to hit that milestone.

Among his contemporaries, Taylor is one of 17 Division I sophomores to already have reached 1,000 career points—he ranks second on that list with 1,205 points, behind only Howard's RJ Cole.

His prowess is no less on the glass, where he's one of two players in Austin Peay history with 250 boards in each of his first two seasons. He finished his sophomore campaign with 294 rebounds, seventh-most all-time, and already ranks 16th in career rebounds by a Gov with 585.

Over the last two seasons, he's one of just 48 Division I players with 500 or more total rebounds, and one of only 13 to haul in 200 offensive boards during that time.

Four times this season, Taylor won or shared OVC Player of the Week honors, for November 19th, December 17th, February 4th and February 18th; he's the first Gov with four or more weekly honors from the league since Wesley Channels (2009-10).

Taylor's single-game highlights are nearly too numerous to list; on a near-nightly basis, it seemed like the Bowling Green, KY native did something different to thrill on-lookers:
Against 18th-ranked Mississippi State, Taylor posted his season's first double-double with 15 points and 10 rebounds.
Posted double-doubles against Central Connecticut (21 points, 17 boards) and Campbell (17 points, 10 rebounds) to earn all-tournament honors for the island portion of the Jersey Mike's Jamaica Classic.
Poured in 32 points against Liberty, earning MVP honors as the Govs took home the St. Pete Shootout title.
Scored 20 points, pulled down nine rebounds and blocked a game-winning shot attempt at the rim to help the Govs preserve a win at UT Martin.
33 points and 12 rebounds in a road win at SIU Edwardsville.
Scored 30 points in a massive road win against Jacksonville State.
Scored 1,000th career point as part of a 25-point, 12-rebound effort to avenge an earlier loss to Eastern Illinois.
His 42 points at Morehead State were the most by an OVC player in 2018-19 and most by a Gov since 2008, making him one of only 21 players in program history with a 40-point game. He also posted a career-high 18 rebounds against the Eagles.
Equaled his career-high with 15 made field goals in a 37-point, 15-rebound effort at Eastern Kentucky.
Taylor ranks fourth in the OVC in scoring (20.5 ppg), third in rebounding (8.9 rpg), first in offensive rebounds (3.4 orpg), fifth in defensive rebounds (5.5 drpg), fifth in minutes (33.1 mpg), eighth in field goal percentage (53.1 percent), ninth in blocks (0.9 bpg) and 14th in free-throw percentage (74.1 percent).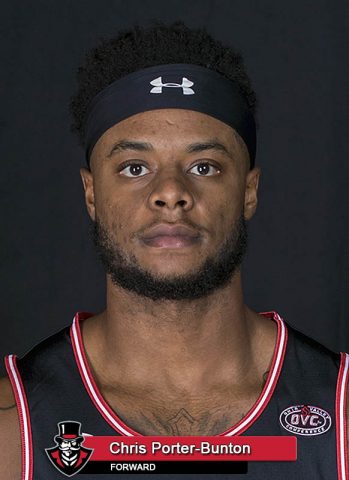 Porter-Bunton was a pivotal piece for Austin Peay since his redshirt freshman campaign in 2015-16 ended in an OVC Tournament title. The only difference in his final season is that he became a more featured part of the offense, averaging career-highs in points (13.6 ppg), minutes (27.0) and rebounding (4.9 rpg).

Once the quintessential glue guy, Porter-Bunton stepped up his statistical production with no drop-off to his harder-to-quantify duties as leader and on-court energy boost. With career highs in field goal, three-point and free-throw attempts, he's managed to eclipse his career percentages in all three categories, including a 42.9 percent mark from three which leads the OVC.

From a 12-point performance in just 14 opening-night minutes against Oakland City, it was clear something was different for the Bowling Green, KY native. He closed Austin Peay's seemingly endless early-season road trip with back-to-back-to-back 16-point games, including 16 and a career-best 15 rebounds against Troy.

OVC play is where Porter-Bunton's season took off. In league play, he has averaged 14.2 points on an absurd 42.1 percent shooting from three, hauling in 1.6 steals to help the Govs out on the defensive end as well.

Seemingly every league foe got a taste of Porter-Bunton's talents. Despite being felled by foul trouble, he scored 19 points against Morehead State, including 11 in the first seven minutes of play.

He hit his stride in mid-January, averaging 17.0 points on 54.1 percent shooting from January 17th-February 2nd, including career-best 24-point outings against Eastern Illinois and Belmont.

His performance in the rematch against Morehead State—during Taylor's 42-point outburst—is vintage Porter-Bunton. He hit five threes and scored 19 points against the Eagles, sinking the go-ahead bucket with 18 seconds to play and then took a pivotal charge on the other end to help the Govs secure the victory.

He made a lasting impression at the OVC Tournament, averaging 22.5 points on 65.4 percent shooting from the floor and 54.5 percent from beyond the arc. In the quarterfinals against Morehead State, he scored his 1,000th career point; he finished at 1,028, good for 33rd all-time.



Sections
Sports
Topics
APSU, APSU Athletics, APSU Basketball, APSU Men's Basketbal, APSU Sports, Austin Peay State University, Averyl Ugba, Belmont, Bowling Green KY, Central Connecticut, Chris Porter-Bunton, Eastern Illinois, Eastern Kentucky, Governors, Govs, Jacksonville State, Kansas City MO, Mississippi State, Morehead State, National Association of Basketball Coaches, Oakland City, Ohio Valley Conference, OVC, OVC Player of the Week, OVC Tournament, SIU Edwardsville, Terry Taylor, Troy, UT-Martin