APSU Sports Information

Richmond, KY – Despite a trademark final-round climb from junior Meghann Stamps, the Austin Peay State University (APSU) women's golf couldn't rise up the leaderboard at the Colonel Classic, which concluded Saturday at the Club at Arlington.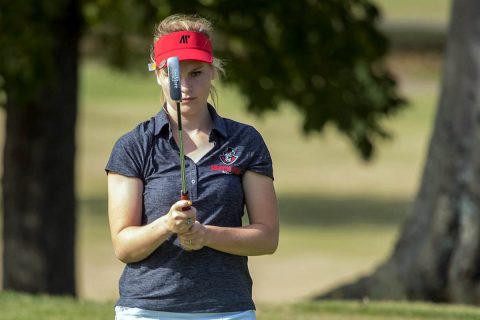 A final-round 314, coupled with a big final-day move by Ball State, which jumped five spots into sixth, conspired to knock the Govs one spot down the leaderboard and into a tie for ninth with Cumberlands at 923 (312-305-314) overall.
The Govs did defeat two of the three Ohio Valley Conference teams in the field, finishing ahead of both Belmont (942) and Tennessee Tech (952).
For the second tournament in a row, Stamps led the Govs in the final round, shooting a 75 to finish tied for 30th with a 232 (84-73-75). In three of her last four tournaments, Stamps has either led the Govs in final-round shooting or shot her best round of a tournament to make a final-day move up the leaderboard.
In addition, she led the Govs with 38 pars, tied for third-most among the 78-golfer field. She also birdied the 164-yard par-3 at No. 16, one of just 16 birdies on that hole in the entire tournament.
Austin Peay's top finisher was once again freshman Taylor Dedmen. The Plant City, Florida native shot 230 (76-75-79), sinking a team-high seven birdies and shooting 4.23 on par-4 holes to lead the way for Austin Peay.
A trio of seniors closed the lineup for the Govs, with Reagan Greene (77-78-79—234), Taylor Goodley (78-89-81—238) and Ashton Goodley (81-79-82—242) within eight shots of one another. Greene got the day started well with a birdie on the 452-yard par-5 No. 9, her first hole of the day.
For the Govs, sophomore Riley Cooper provided what might've been the most optimistic final round, scoring a 78 to finish at 241 (82-81-78), the only Gov to improve in all three rounds as she seeks to work her way back into the regular rotation.
The Govs will put this one in the rearview mirror and turn their attention to next week, where the they'll compete in their final event of the regular season—the 2019 Jan Weaver Invitational in Murray, Kentucky. The event begins Friday, April 5th.
Box Score
Colonel Classic
Richmond, KY | University Club at Arlington
Dates: March 29th – March 30th
| | | | | | |
| --- | --- | --- | --- | --- | --- |
| Finish | School – Players | Round 1 | Round 2 | Round 3 | Total |
| T 9 | Austin Peay State University | 312 | 305 | 314 | 931 |
| T 26 | Taylor Dedmen | 76 | 75 | 79 | 230 |
| T 30 | Meghann Stamps | 84 | 73 | 75 | 232 |
| T 38 | Reagan Greene | 77 | 78 | 79 | 234 |
| T 50 | Taylor Goodley | 78 | 79 | 81 | 238 |
| T 63 | Ashton Goodley | 81 | 79 | 82 | 242 |