APSU Sports Information

Irving, TX – Three Austin Peay State University (APSU) football graduates were named to the 2019 Hampshire Honor Society, the National Football Foundation and College Football Hall of Fame announced, Wednesday.
Offensive linemen Ryan Rockensuess and Ethan Self and linebacker Gunnar Scholato earned the distinction, becoming the first Governors since 2017 to do so.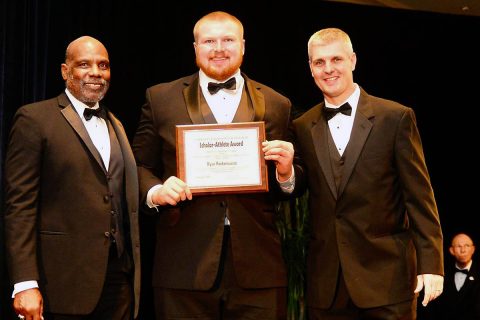 The trio of Governors are among 10 honorees from Ohio Valley Conference institutions and tied for the most from any school in the league.
The NFF Hampshire Honor Society recognizes student-athletes who maintained a 3.2 GPA throughout their collegiate careers and were starters or significant contributors on their football teams.
Rockensuess graduated with a bachelor's degree in finance – finishing with a 3.70 grade-point average – and was recognized for his academic and athletic achievements multiple times throughout the previous two seasons. He earned CoSIDA Academic All-District honors in 2017 and 2018, while also being named a semifinalist for the William V. Campbell Trophy each of the past two years.
The Middle Tennessee chapter of the NFF recognized Rockensuess among its top collegiate scholar-athletes at its banquet earlier this year. He also earned distinction on the Austin Peay dean's list five teams and the athletics director's honor roll twice.
Self also earned a bachelor's degree in finance, completing his coursework with a 3.53 GPA. He earned recognition on the Austin Peay dean's list three times and the athletics director's honor roll three times as well.
Rockensuess and Self were stalwarts along the offensive line, manning the guard positions for four seasons. Rockensuess started 38 career games, while Self started 36, helping lead the Govs to three-consecutive 4,000-yard seasons offensively. They helped the offensive unit set program records in total yardage, rushing yards and rushing touchdowns in 2017, and points, total touchdowns, yards per game and yards per play in 2018.
Rockensuess earned second-team All-OVC recognition in 2017, while Self earned second-team All-OVC honors in 2018.
Scholato graduated with a bachelor's degree in health and human performance with a 3.20 GPA. Scholato made the dean's list on one occasion and earned athletics director's honor roll five times.
Originally a walk-on, Scholato earned a scholarship before his redshirt freshman season. As a sophomore, he exploded onto the OVC scene, leading the conference in tackles per game and finishing seventh nationally, earning second-team All-OVC honors in 2016.
He was a first-team All-OVC selection in 2017 and 2018, recording 99 and 109 tackles, respectively. His 364 career tackles ranks ninth all-time at APSU and he is one of just two Governors since 1978 to rank in the Top 10 in career tackles. He finished his final season second among active FCS players in career tackles.
Since the Hampshire Honor Society was established in 2007, the Governors have had 27 student-athletes earn distinction from the NFF.