APSU Sports Information
Clarksville, TN – The Austin Peay State University (APSU) baseball team begins the final month of the regular season when it hosts SIU Edwardsville in a three-game Ohio Valley Conference series, Friday-Sunday, on Joe Maynard Field at Raymond C. Hand Park.
The Govs are third in the OVC regular-season race, one-game behind co-leaders Belmont and Jacksonville State.
Meanwhile, SIUE sits eighth in the standings – the final spot to qualify for the OVC championship.
Austin Peay returns to the friendly confines of Hand Park after posting a 2-2 record during its four-game road trip, which included a key OVC series win at UT Martin. The Govs are 7-2 in home OVC games this season with three straight OVC series victories.
SIUE began a five-game road trip with a run-rule victory at Western Illinois, Tuesday. The Cougars are returning to OVC play after taking their off week in the schedule, which they used to post a series victory against Valparaiso. SIUE is 2-7 in OVC road games this season
Toeing The Rubber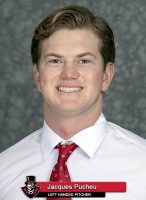 Lefty Josh Rye will take the bump for Friday night's opener. He is 1-1 with a 1.59 ERA in his three previous home OVC starts. Rye is ranked 6th among OVC pitchers in league-only ERA (3.25) and 7th in opponent's batting average (.233).
Left-hander Jacques Pucheu will remain in his Saturday afternoon spot. He owns a 3-0 record and 0.78 ERA in his three previous home OVC outings. Pucheu leads all OVC pitchers with 58 strikeouts in league play and is ranked 3rd in OVC-only ERA (2.91).
The Govs have not announced a starter for Sunday's finale. Right-hander Brandon Vial has made the previous six finale starts. He is 2-0 with a 1.12 ERA in his three home OVC starts.
Austin Peay's pitching leads the OVC in team ERA (4.23) in its 21 OVC games this season.
The Governors pitching staff owns a league-leading 9.59 strikeout per nine rate that ranks 29th nationally and would shatter the program record of 8.48 set in 1967.
First Hacks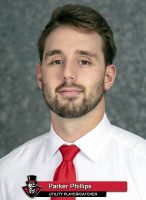 Fifteen different Governors have started a game in the season's first 39 games. Only two players have started every game in 2019: center fielder Garrett Spain and utility man Parker Phillips.
Freshman designated hitter Matt Joslin continues to be the right man in the right spot in 2019. He is batting .727 with 18 RBI in 12 bases-loaded opportunities this season, including a walk-off grand slam against Southern Illinois, last Tuesday.
Senior catcher David Martinez' .373 batting average is 12th among NCAA catchers (71st overall) and third among all OVC hitters. He is batting .388 and has hit all five of his home runs since March 24.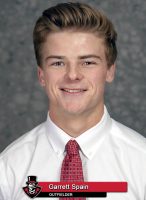 Center fielder Garrett Spain has reached base in all 39 games – the fourth longest streak in APSU history. He is second among OVC freshmen in batting average (.348), home runs (5) and RBI (38). Spain also is ranked among Division I freshmen in batting average (16th), RBI (12th) and runs scored (10th).
Junior right fielder Parker Phillips finished the UT Martin series with three home runs and eight RBI while batting .545. He went 3-for-4 with six RBI in the series finale, hitting a grand slam and two-run home run. Phillips is APSU's career leader in home runs (45) and times hit by pitch (51).
In April, senior left fielder Aaron Campbell leads the Govs in batting average (.484), on-base percentage (.579) and slugging percentage (.645). He reached safely in 10 consecutive plate appearances during the UT Martin series.
Junior first baseman
Andrew Flaherty
enjoyed a career-best day in Sunday's finale at UT Martin, going 3-for-6 with 6 RBI, including a three-run home run. He is batting .400 (10-25) with nine RBI in his seven April starts.
Freshman third baseman Gino Avros closed his stay at UT Martin with a 2-for-5 outing that included a double, saw him walk twice and score twice.
He is batting .306 during April with nine walks (.424 OBP).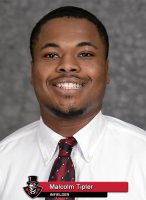 After missing a start for the first time since February 24th, redshirt senior shortstop Garrett Kueber bounced back with his second three-hit game this season, Sunday, going 3-for-6 in the finale with a double and scoring twice.
Junior utility man Malcolm Tipler has a base hit in five of his last six games, batting .291 (7-24) with six RBI and five walks.
Sophomore infielder Bobby Head hit his season's sixth home run at Middle Tennessee, Tuesday, his first home run since a 3-game streak with a home run, March 27-30.
Senior catcher Alex Sala has started four of the last five games behind the plate and is batting .333 (4-12) in those starts.
APSU Govs vs. SIUE Cougars
SIUE has won the last two OVC series played in Clarksville, including a series sweep in 2017.
Austin Peay won last season's series, played in Edwardsville, posting shutouts in Games 1 & 2.
Austin Peay leads the all-time series, which started in 1973, 20-16. The Cougars have won four of the last six meetings and eight of the last 15.