Clarksville, TN – In 2017, the Austin Peay State University (APSU) student Shawn Harding discovered his family had fled Eastern Europe following a violent persecution of that region's Jewish residents.
In 1905, a nice Catholic family from the Ukraine/Poland border immigrated to the U.S. with very few belongings and one big secret – they weren't Catholic. More than 110 years later, the family's great-grandchildren finally learned the truth.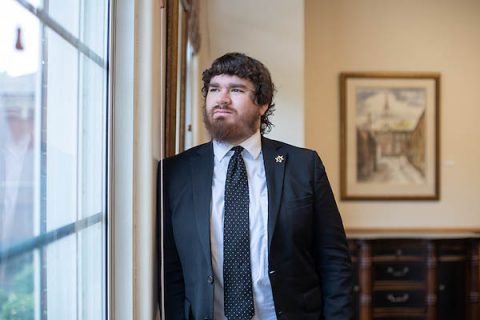 "They were killing the Jewish people, so my family left," Harding said. "Our past was obscured because they saw what happens to Jewish people."
The unearthing of this long-forgotten secret led Harding on a search for other family members still living in Eastern Europe. His quest didn't end with a happy reunion. After months of research, he learned many of the Polish and Ukrainian members of his bloodline disappeared around 1943 or 1944, presumably the victims of concentration camps.
"When I found all this out, in the summer, I was preparing an independent study for my research course in my master's degree, which would take place in the Spring of 2019," he said. "I wanted to study the Holocaust, and my professors at Austin Peay really invested in me."
As a political science undergraduate, Harding created a research website called The Holocaust Blueprint, www.theholocaustblueprint.org, which provides educational resources and interactive maps of Holocaust sites in Europe.
"I went through and documented every location of the ghettos in German-occupied Poland and other countries in Europe, so students and professors can use this resource for free," he said.
Continuing the Journey at APSU
After earning his bachelor's degree in political science with a minor in international relations, Harding looked for a graduate program that would help him continue his research into this subject. In the fall of 2017, he enrolled in Austin Peay's Master of Professional Studies program with a concentration in Strategic Leadership. The program is an interdisciplinary graduate degree in the social sciences.
"When I switched to my master's degree, I wanted to study ghetto leadership, how the Judenrat, the Jewish council, functioned as a government," he said. "In the summer of 2018, I went to Poland, and my master's program allowed me to earn credit for what I was doing. I studied with some of the top Holocaust professors in Europe."
Harding's research revealed that the Judenrat had a significant impact on their ghetto populations through control of food supplies and other means of day-to-day life; however, they were restricted to what the Nazi regime allotted to them. This limited form of government, however, did not provide the Jewish people with a voice inside the ghettos.
"Getting the Jewish people to vote while they were starving to death was impossible," Harding said. "Corruption began because life and death was on their doorsteps."
While in Poland, Harding visited the Jewish ghettos, along with Auschwitz and the other camps where his family likely died.
"That was hard," he said. "But my whole focus was to learn about the Holocaust, and if I hadn't gone over there, my perspective would have been entirely different."
Today, the APSU graduate is continuing his research while also writing about the Holocaust as a blogger for The Times of Israel. He's thinking of pursuing a law degree, with a focus in international human rights, or continuing his studies in a doctoral program. Whichever route he chooses, he credits his alma mater with giving him the freedom to pursue his passion.
"As a student, it was an amazing adventure here at Austin Peay, being able to do what I do," he said. "I liked the way Austin Peay approaches students and classroom sizes. For me, it was the better option."