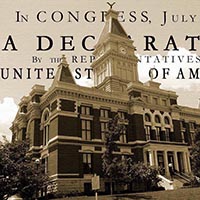 Clarksville, TN – On July 4th, 2019 at 9:00am, the annual reading of The Declaration of Independence will take place on the steps of the Montgomery County Courthouse located on North Second Street in Clarksville. The Clarksville-Montgomery County community is invited to attend this event in Downtown Clarksville.
"The Fourth of July is more than barbecues, fireworks and family gatherings," said David Brockman, event organizer. "This isn't a protest or political rally. The goal of this event is to remind us all that the holiday has a deeper symbolic meaning."
Now it its 7th year, this event is one of Tennessee's best kept secrets in regards to Independence Day celebrations.
The event hopes to reinforce the importance of that document in establishing freedom and justice in America and to honor a set of ideals that separate America from every other nation on earth.
Revolutionary War Reenactors and historians will be on-hand to present the colors.
For more information and to see how you can get involved, please visit the event's Facebook page at www.facebook.com/ReadingDOI