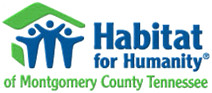 Clarksville, TN – On Sunday, August 11th, 2019, Habitat for Humanity of Montgomery County will dedicate its 98th Clarksville-area home at 3630 Chapel Hill Road in Southside at 3:00pm.
Tonya Harris applied for a Habitat for Humanity home in March of 2017 and successfully completed 250 hours of 'sweat equity,' which included work on her home and class time on finances, home maintenance, and other issues related to home ownership.
Habitat participants like Tonya buy their home at cost and pay for it through an interest-free mortgage.
"Tonya entered the Habitat program because she wanted a safe, secure home to raise her family and through hard work and dedication, she earned one," said Habitat Executive Director Rob Selkow. "We're proud to have Tonya and her daughter Haley in the Habitat family."
The home was built in partnership with C. Blackwell Construction with the following partner-contractors and volunteers: 1st Choice Drywall, Adams Products, Aguila's Outdoor Improve, Airborne Electric, All Tech Insulation, American Wholesalers, B&R Siding, Big Hey Enterprises, Brinkley Electrical, Clarksville Lighting, Closet Design Specialists, Double A Construction, Express Roofing, Farrell-Calhoun Paints, Hazlett's Concrete, Hollis & Hollis Trucking, Lewis Bros. Guttering, Malugin Heating & Cooling, Mark Davis Trucking, Lowes, Quality Trim & Paint, Salem Custom Cabinets, Taylor Services, Thomas Lumber, Trey's Trim, Vulcan Wallace Supply, and Whirlpool Appliances.
Habitat for Humanity, in partnership with qualifying Montgomery County families, has completed 98 houses since 1992, using donated funds, labor, and materials.
The Clarksville-based ministry is always seeking individuals, churches, and local companies for volunteer projects related to eliminating poverty housing in Montgomery County. For information, call 931.645.4222 or visit www.habitatmctn.org