Clarksville, TN – On Saturday morning, August 3rd, 2019 the Austin Peay State University (APSU) football team hit the turf at Fortera Stadium for the second practice of fall camp.
"Bring Em Out" blared through the stadium's sound system as the student-athletes and coaches hustled onto the field to begin the second day of work in preparation for the 2019 season.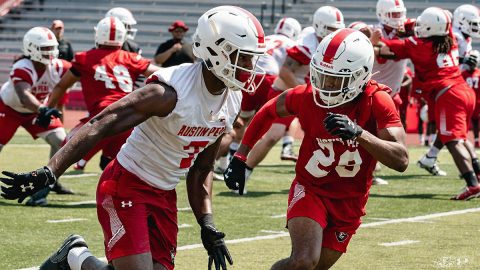 After some position drills to start, the entire team performed warm-up exercises and stretches while getting fired up to attack the day's work.
Even though it was just the second day of practice, there was a little more noticeable urgency with the players, drills were a little cleaner, and routes were a little crisper than Day One. Head coach Mark Hudspeth's voice echoed through "The Fort" as he bellowed his approval through the megaphone he holds during practice.
As practice continued through the morning, Austin Peay supporter Joe Maynard (of Joe Maynard Park fame) made his way to the sidelines and commented on the enthusiasm and efficiency that have defined the first two days of fall camp.
During the team huddle after practice, Hudspeth invited Maynard up to offer some words of encouragement, and the team thanked him for all he does for Governor Athletics.
Then came the best treat of the day: fresh, juicy watermelon awaited the players as they made their way off the field!
As the team headed toward the locker room, a few members of the offense stopped to offer their thoughts on the first two days of practice.
Quoting the APSU Governors
Tim Zetts, Offensive Coordinator
On the offense's progress through two practices:
"I feel good about it. We're coming out a lot more ahead of the game than we did in the spring. I think that's a lot of it: going through the spring and the experience we gained through that is putting us at a big advantage right now. All throughout summer, these guys worked their butts off, so it's definitely paying off for us right now. We're able to do more than you'd normally be able to do if these guys didn't invest all the time they did. I feel really good right now, and I think our guys are really challenging themselves right now. We put a lot on them, and they're responding."
On the energy level during practice:
"I think it's been awesome. Guys are flying around, having fun. The biggest thing I challenged them to do was go out and have fun, fly around, play fast and be physical inside of your assignment. They're having fun and I think the energy has been there."
On what he plans for the offense to work on leading up to the first scrimmage:
"We're going to keep building our install, and like I told (the offense), we're going to have 100 percent of our offense in by Practice Six. That's going to be whole lot of volume for them, but I challenged them at the beginning to have them absorb it all. I think the faster you get it to them, the faster they can absorb it and then it gets easier as camp goes on."
Jeremiah Oatsvall, Quarterback
On the offense's progress through two days of camp:
"I think we're really far ahead for it being the second day. Knowledge-wise, we can probably run almost the whole playbook right now. I think the work we put in during the summer really gave us a step forward when we started camp. Everybody came into camp basically knowing everything. We still have to fine-tune the details, but I think the second day was a step forward. It was a good day today."
On the team's conditioning:
"I think the work we put in this summer gave us the opportunity to be ready to go physically and mentally on the field. We're super far ahead right now. We just have to keep building and we can't be complacent."
Gorel Soumare, Wide Receiver
On the first two days of practice:
"We had a slower first day, but that is usual for the first day. Yesterday, (the coaches) preached effort and finishing plays and making sure we're in sync with each other and just keep focusing on the little things and just come out here and work hard every day we get out here."
On the energy level of practice:
"It's been great. I love the energy. Everybody comes out here and is hyped to be out here. It's been a long, hard summer, and it's great to be out here and to get to play football now."