Hattiesburg, MS – A fired-up final round saw Austin Peay State University (APSU) men's golf team jump into the top-five at the Southern Miss-hosted Sam Hall Intercollegiate at Hattiesburg Country Club, which wrapped via a long Tuesday outing.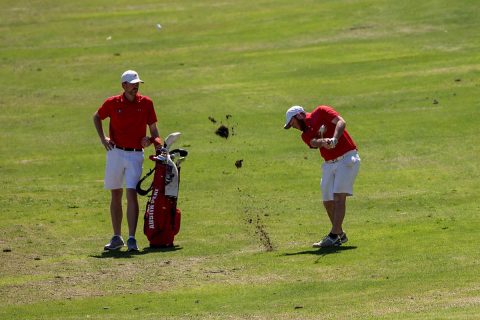 With weather conspiring against the squads, what was scheduled to be a light, 18-hole affair on Tuesday saw most of round two and all of round three to be played.
For the Govs, a final-round 277, highlighted by two players in the 60s, allowed Austin Peay State University to leapfrog a trio of squads for fifth with a three-round 854 (288-289-277), three shots behind New Orleans. Sam Houston State (819) won the team portion of the event.
If his opening act was any indication, the Govs may have another Freshman of the Year candidate on their hands in Tate Dickerson.
The Booneville, Mississippi native placed 14th in his first collegiate event, shooting 210 (71-72-67) and closing out the tournament with Austin Peay State University's best final-round effort since Chase Korte fired a 67 at the Coca-Cola Wofford Intercollegiate, April 10th, 2018—which also was the last 67 posted by an APSU freshman.
Senior Michael Busse was consistently lurking near par all week, finishing with a 215 (70-72-73), taking advantage of his iron game to average even-par on par-3 holes and showing flashes of power with a 4.56 stroke average on par-5 efforts.
A pair of seniors fired matching 217s to tie for 35th. For Austin Lancaster (76-73-68), it represented a leap up the leaderboard thanks to a final-round 68, which erased a difficult opening-round 76. For Alex Vegh (73-74-70), the final-round 70 was his best round since a 69 in the second round of the season-opening Golfweek Program Challenge, September 10th, 2018. Vegh also posted a team-best 38 pars, two off the tournament high.
Korte rounded out the lineup for the Govs with a 218 (74-72-72); an eight on the par-4 No. 18 during round two proved to be his bane for the entire tournament. Replace that four-over with a par—which he recorded on No. 18 during the opening and closing rounds—and he moves up into the overall top-25.
The APSU Govs will have a week off ahead of the next tournament, the SIU Edwardsville-hosted Derek Dolenc Invitational in Madison, Illinois, which takes place September 23rd-24th.
Box Score
The Sam Hall Intercollegiate
Hattiesburg Country Club
Hattiesburg, MS
Dates: Sep 09 – Sep 10
| | | | | | |
| --- | --- | --- | --- | --- | --- |
| Finish | School – Players | Round 1 | Round 2 | Round 3 | Totals |
| 5 | Austin Peay State University | 288 | 289 | 277 | 854 |
| T 14 | Tate Dickerosn (3) | 71 | 72 | 67 | 210 |
| T 26 | Michael Busse (2) | 70 | 72 | 73 | 215 |
| T 35 | Austin Lancaster (4) | 76 | 73 | 68 | 217 |
| T 35 | Alex Vegh (5) | 73 | 74 | 70 | 217 |
| T 42 | Chase Korte (1) | 74 | 72 | 72 | 218 |
| | | | | | |