Columbia, MO – Junior Chloe Stitt finished the opening day of the Mizzou Invitational with 22 kills but the Austin Peay State University (APSU) volleyball team fell to No. 21 Missouri in three sets (21-25, 10-25, 14-25) and Boise State in four sets (22-25, 18-25, 26-24, 23-25), Friday, at the Hearnes Center.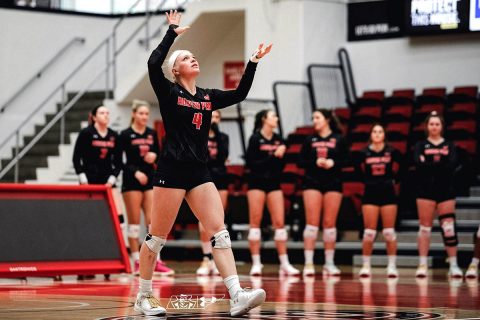 In the day's first match, Austin Peay State University (1-7) faced off against host Missouri, ranked No. 21 in the AVCA Coaches Poll entering the weekend.
The Governors fought back from an early six-point deficit and got within a point at 17-16 in the first set but could not close the gap completely as Missouri went on to win the opening frame and then the next two sets in wire-to-wire fashion.
Stitt led the Govs with eight kills against the Tigers while junior Brooke Moore finished with six kills. Austin Peay State University was limited to 25 kills in the match while Missouri scored 49 kills – 17 by Kylie Deberg.
The Govs enjoyed a more back-and-forth affair with Boise State in the day's second match. Boise State (4-2) needed to score the final three points in the first set to fend off the Govs and then had to score four of the final seven in the fourth set to clinch the match. The Governors were able to clinch the third set thanks to an impressive 11-2 run midway through the set with Stitt providing three consecutive kills to start the rally.
Moore led the Govs with 15 kills against the Broncos while Stitt posted another 14 kills. The Governors offense finished with 46 kills while the defense notched 54 digs. Moore (10), senior Ginny Gerig Busse (10) and junior Caroline Waite (11) each posting double-digit dig totals.
Austin Peay continues play in the Mizzou Invitational with an 11:00am, Saturday contest against Kansas City.