Louisville, KY – A pair of doubles wins highlight a successful first morning for the Austin Peay State University (APSU) men's tennis at the Louisville Fall Invitational, Saturday, at the Bass-Rudd Tennis Center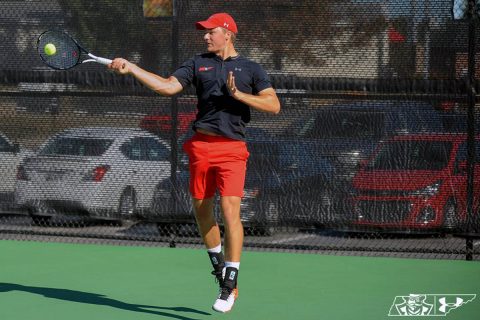 The duo of Jacob Lorino and Christian Edison picked up their second doubles win of the season at the Louisville Fall Invitational.
The Governors two elder statesmen knocked off Toldeos Shoults/Suksathaporn, 6-4, and will take on Xavier's Pejic/Vrba on day two of the tournament.
The sophomore-freshman pair of Anton Damberg and Julius Gold picked up their second doubles win in as many weeks, knocking off Wright State's Morton/Rodriguez. The Governor duo will take on Chicago State's Pradillo/Wurzelbacher on day two.
Things didn't go as well for the Governors in singles play, picking up just one win. Gold, the Marktbreit, Germany, native picked up the Govs lone singles win, beating Xavier's Dominic Macaluso. Christian Edison dropped a long match to Belmont's Jake Briggs in Flight D. In Flight F, Jacob Lorino and Anton Damberg both dropped matches, 8-3. Finally, in Flight G, freshman Thiago Nogueira fell, 8-4, in his only match of the day.
The Governors will be back in action Saturday morning with doubles play at the Louisville Fall Invitational. For updates, follow along on GoCards.com or on Twitter (@AustinPeayMTN)
APSU Govs Day One Results
Flight D Doubles
Christian Edison/Jacob Lorino (APSU) def. Shoults/Suksathaporn (Toldedo) 6-4
Flight G Doubles
Anton Damberg/Julius Gold (APSU) def. Morton/Rodriguez (Wright State) 6-2
Flight D Singles
Jake Briggs (Belmont) def. Christian Edison (APSU) 4-6 7-6(4) 10-8
Flight F Doubles
Max Pilipovic (EIU) def. Jacob Lorino (APSU) 8-3
Parrish Simmons (Ball State) def. Anton Damberg (APSU) 8-3
Flight G Singles
Julius Gold (APSU) def. Dominic Macaluso (Xavier) 8-3
Andrew Michael (Butler) def. Thiago Nogueira (APSU) 8-4