Clarksville, TN – Kings Bluff Brewery has been working on a project with their friends at Dunbar Cave State Park, and @tennesseestateparks on Meet the Dunbar Draught!
It's a black lager, fermented in the depths of Clarksville's best known cave, Dunbar Cave. This small batch will be spun up into a large batch, with a portion of proceeds going to the Friends of Dunbar Cave Foundation to raise awareness and help with cave upkeep.
This has been one of the coolest things Kings Bluff Brewery has ever done.
It's an honor to use ancient brewing techniques to bring a Clarksville landmark into a new light.
Come by Wednesday, October 20th, 2019 to sample some!
Dunbar Cave State Park is located at 401 Old Dunbar Cave Road, Clarksville Tennessee.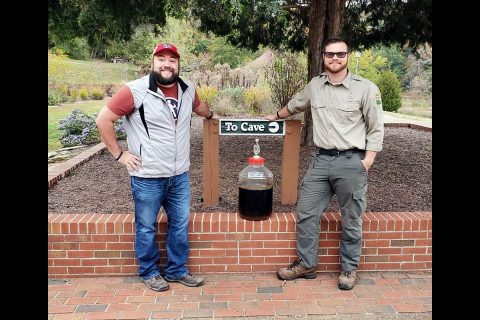 About Kings Bluff Brewery
Kings Bluff Brewery is a local craft brewery, female owned and operated. The beer is brewed by the owner's husband Dustyn. He has impeccable taste in beer, and can debate the seventh season of Gilmore Girls with anyone.
Craft beer brewery focusing on flavor, community, and always thinking of a third thing when making lists! New beers on tap weekly, and events everyone can enjoy. Come by, bring the family, be awesome, and enjoy some delicious craft beer made right here.
Kings Bluff Brewery is located at 128 University Avenue in Clarksville, Tennessee.
For more information visit www.kingsbluffbeer.com