Clarksville, TN – As chapters in the Austin Peay State University-Murray State basketball rivalry go, this one is going to be dissected, replayed and talked about for years to come.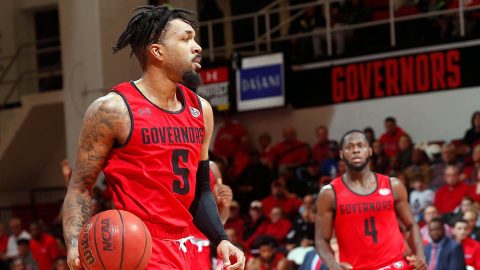 The Austin Peay State University (APSU) men's basketball team held on for a 71-68 win in a wild affair that saw the lead change hands 14 times over the course of 40 minutes and ended with a last-gasp three from the Racers failing to find its mark.
The fall out for this one is significant; Austin Peay State University moves to 17-9 on the season and equals Murray State with an 11-2 mark in conference play. This makes the next matchup—on the final day of the regular season against the Racers in Murray—a can't-miss contest between the rivals and a de facto OVC Tournament game.
Both teams started hot and progressively cooled down as the first half went on. Amped up by both the stakes, the nature of the rivalry itself and the ESPNU primetime slot, the Govs and Racers hit seven of the first 12 shots put up, but neither truly capitalized on a mid-half cold streak that saw both go more than three minutes without a bucket.
Austin Peay State University led at halftime by the slimmest of margins, and for myriad reasons. First, there were 10 Jordyn Adams points, and they were big for the scope of the game and his season at large; the APSU Govs needed to get him going after a tough shooting night last week at Belmont.
Equally important was the work Terry Taylor and Eli Abaev did down low; the duo combined for 14 of Austin Peay State University's 19 first-half rebounds, getting the Govs multiple looks or stopping Murray State possessions after one shot.
Evan Hinson scored Austin Peay State University's last four points as the Govs held the Racers to just one bucket over the final two minutes to enter halftime ahead, 35-34. Twenty high-energy minutes down, 20 to go.
The second half was a brawl. Physically, bodies were flying all over the floor in pursuit of every loose ball and to close out on any open man. Often, it resembled less the beautiful hoops both these teams are known for and more random bodies crashing into one another with the occasional jump shot thrown in.
Slowly, Austin Peay State University began to build a lead. A 6-0 run on two Antwuan Butler jumpers and a Taylor bucket gave Austin Peay State University its first substantial lead of the night—five points. Just as quickly, the Racers cut it back to a bucket and the seesaw battle continued.
At the 5:16 mark, following another 6-0 run to take an eight-point lead, the Govs looked poised to start putting the game away.
Not so fast.
DaQuan Smith bookended a 12-4 Racer run with three-pointers to make it a tie game with 90 seconds to play. Govs. Racers. Down to the wire. We've seen this movie before—just last year in fact, when Austin Peay State University's potential game-tying bucket was waved off as having been released just after the buzzer sounded. It was Austin Peay State University's last loss in the Dunn Center, as a matter of fact, almost a year ago to the day.
Not this time.
First, an Adams three-point play—the final three of his 20-point night. Murray State countered with a quick bucket from KJ Williams. The Governors came up empty on the next possession and needed a stop—any stop—to remain in front.
Enter Abaev. The redshirt junior came up big in big moments all night, but none bigger than his stuff of Anthony Smith at point-blank range. The APSU Govs came up with the ball. The Racers fouled Carlos Paez, which is just about as sure two points as you'll find in the OVC. Three-point game. 20 seconds left.
Murray State had its final chance. Tevin Brown, one of the nation's deadliest long-range shooters, missed from distance. Abaev grabbed the board and launched toward the Governor end of the court toward Taylor, but Smith stepped in front of the pass, gathered himself, fired… and missed from well beyond the arc as time expired.
The Difference
Defense, which is no doubt music to head coach Matt Figger's ears. Austin Peay State University forced 14 Murray State turnovers, leading to 14 points for the Govs, while nine Austin Peay State University miscues translated to just five points for the Racers.
Austin Peay State University Notably
The win snaps a five-game losing streak against the Racers for Austin Peay State University. It's head coach Matt Figger's first win against Murray State.
In league play, the APSU Govs are plus-5.2 in rebounding margin and plus-3.2 in turnover margin.
This is Austin Peay State University's first win against Murray State when the teams were ranked first and second in the league since 2004.
Abaev equaled his career high with 11 rebounds. He's averaging 8.0 rebounds over his last six games. He also equaled his career high with three assists, leading the Govs in helpers for the first time in his Austin Peay State University career.
Austin Peay State University has won 14 straight at home, its longest home winning streak since a 28-gamer spanning the 2002-04 seasons.
Hinson scored a dozen off the bench, his third double-digit effort as an APSU Gov.
Taylor is averaging 14.3 rebounds over the last seven games.
Coaching Quotables with APSU head coach Matt Figger
On Murray State
"It was a war. I have so much respect for their program and Matt McMahon. They fight every game. They've been to back-to-back NCAA Tournaments and they know nothing but winning. They've been put in situations where their backs are against the wall, and they don't quit."
On establishing consistency
"What I respect about Murray and Belmont is those games on the road when they figure it out. That's winning tradition. That's what we're trying to establish with our guys. Kids are human, and we're young and they get comfortable and you just can't ever be comfortable."
Next Up For Austin Peay State University Basketball
This was a huge win. Alas, the Austin Peay State University men's basketball team won't be able to savor it longer, because an equally dangerous foe visits the Dunn Center Saturday when Eastern Kentucky makes the trek from Richmond, Saturday. Tipoff is scheduled for 4:00pm.