Topic: Chase

Yonkers, NY – When it comes to banking, bigger isn't always better.  A recent subscriber survey conducted by Consumer Reports found that customers of credit unions, primarily online, and smaller traditional banks were more satisfied with their overall banking experience than those who do business with one of the nation's four dominant mega banks: Bank of America, Chase, Citibank, and Wells Fargo.
The full report, "Choose the Best Bank for You," is in the January 2016 issue of Consumer Reports and at ConsumerReports.org.   «Read the rest of this article»
Out-of-the-ordinary offerings from BJ's, Costco and Walmart to buy, consider, or skip
Yonkers, NY – These days, shoppers can find more than big bags of Doritos and giant jars of peanut butter, at discount retailers such as BJ's, Costco, and Walmart.
The July 2013 issue of ShopSmart magazine, from Consumer Reports, features an up-close look at seven financial services including credit cards and mortgages offered by these discount giants and reveals if they are worth the expense. «Read the rest of this article»
Consumers Union Offers Recommendations For Making It Easier For Consumers To Move Their Money To A New Bank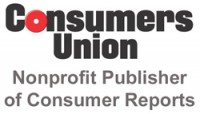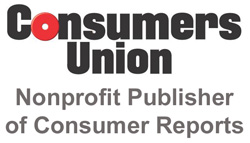 San Francisco, CA – Public outrage over unfair bank practices and rising fees has prompted more and more consumers to consider switching to new financial institutions in search of better deals.  But consumers can face a myriad of obstacles that can make switching banks a hassle, according to a new report by Consumers Union, the policy and advocacy arm of Consumer Reports.
"Consumers may be fed up with their bank but they can encounter roadblocks that make moving their money a real headache," said Suzanne Martindale, staff attorney for Consumers Union.  "Some bank policies are designed to make it challenging for customers to walk away.  That creates customer inertia and stifles competition, making banks less responsive to what consumers need." «Read the rest of this article»
It's Unfair to Charge Customers When Banks Collect Enough From Retailers to Cover Debit Card Costs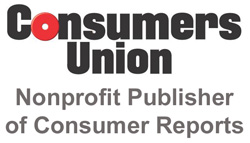 San Francisco, CA — Consumers Union called on Bank of America and other banks to drop plans to charge consumers monthly debit card fees. 
Bank of America recently announced it would charge its customers $5.00 each month starting in 2012 to make debit card purchases.  SunTrust has started rolling out its own $5.00 fee and Wells Fargo and Chase are testing debit card fees in select markets. «Read the rest of this article»

New York, NY – Irritated consumers have moved bank giants, retailers, and other companies that continue to miss the mark on customer satisfaction into the Elite 8 of Consumerist.com's sixth annual "Worst Company in America" tournament. 
Top-seeded Bank of America, a fixture of the tournament since acquiring Countrywide, cemented their spot in the Elite 8 with a whopping 87 percent of the vote against DirecTV. They will face the world's largest retailer Walmart in the first match-up of the latest round.  «Read the rest of this article»
Report identifies some good cards, and bad.
 


Yonkers, NY – With the protections of the Credit Card Act of 2009 in full effect, a nationally representative survey shows a slightly lower level of dissatisfaction among Americans with their credit cards than last year. However, credit cards remain one of the lowest-rated services Consumer Reports has ever analyzed; only 45 percent of respondents said they were completely or very satisfied with their cards.
 
The survey, conducted in July by the Consumer Reports National Research Center also shows that consumers are carrying less credit card debt, with median balances of $3,793— $1,100 lower than in 2009. «Read the rest of this article»