Topic: City Council Special Session
Written by Kaye Jones
Clarksville City Councilwoman, Ward 11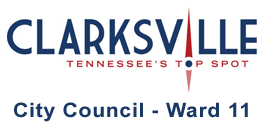 Clarksville, TN – I held my 39th Town Hall Meeting last night, since being elected to City Council. One of my campaign promises was to hold regular monthly meetings, and with one or two exceptions, I have done so.
It is important to me that people know that they can come and voice their opinion, give me info on things they need help with and tell me their ideas for how Clarksville can grow and be the best it can be.
«Read the rest of this article»
Clarksville, TN – Clarksville Mayor Kim McMillan has called a Special Session of the City Council for the purpose of swearing in newly-elected member Valerie Guzman (Ward 5) and re-elected members James Lewis (Ward 3), Wallace Redd (Ward 4), David Allen (Ward 8), Joel Wallace (Ward 9) and Jeff Burkhart (Ward 12). «Read the rest of this article»
Clarksville, TN – The city council met in a special called session this evening to discuss the marina and restaurant leases at Liberty Park. Councilman Harris was absent tonight. Councilwoman McLaughlin had to leave before the vote due to a prior commitment. Mr. Campbell, the marina/restaurant selectee, was in attendance.
In case you don't want to read the gory details, the leases passed in a 9-yes, 0-no & 2-abstain. I voted to abstain, as some important contract questions I had with the leases were not allowed to be answered. Councilwoman Jones also abstained for similar reasons. The contracts were signed after the council meeting. The details follow. «Read the rest of this article»
Clarksville, TN – Yesterday evening council members received the proposed lease agreement on the marina/park restaurant.  It and the total package for the marina come to 268 pages to review for a special session of the city council to be held this afternoon at 5:00pm.
«Read the rest of this article»
Clarksville, TN – This afternoon the council session met in a special session to discuss and vote on paying $100,000 for a drainage basin in the Woodstock subdivision.
Questions on this confirmed that Councilman Burkhart, who is a partner in the development does not want any of the money being offered. «Read the rest of this article»
Comments by Clarksville City Councilman Bill Summers on the City Executive and Special Session Agenda for October 27th

Please note the Special Session agenda listed below on Ordinance 36-2011-12.  The city is offering to pay $100,000 for 26 acres of land that is engineered and used for rain/storm storage. The basin storage area is in the Woodstock Subdivision which has experienced bad flooding in the past couple of years and was developed and is evidently still owned by Councilman Burkhart and his partners.
An appraisal of the land in question came in at $159,000.  While I concur the city has a responsibility to try and fix the problem (current repair price is $450,000 for the first phase with the possibility of a second if the first doesn't work) I have an issue for the city paying for the land to fix the problem. «Read the rest of this article»