Topic: Click it or Ticket

Clarksville, TN – As summer kicks off and families hit the road for vacation, the Austin Peay State University Police (APSU) Department is partnering with the Tennessee Highway Safety Office (THSO) to remind motorists to "Click It or Ticket."
«Read the rest of this article»
Clarksville Police Department (CPD)

Clarksville, TN – In an effort to educate the public and promote safer driving habits, the Clarksville Police Department has compiled some statistics related to motor vehicle crashes for 2018 in the city limits of Clarksville.
The 2018 estimates for population within the city limits of Clarksville is approximately 153,000 and with inclusion of the county, pushes the population directly influencing traffic within city limits to about 200,000.
«Read the rest of this article»

Clarksville, TN – Clarksville Police Department is partnering with the Tennessee Highway Safety Office to increase seat belt enforcement from May 23rd to June 5th, surrounding of one of the busiest travel weekends of the year.
"If you ask the family members of those unrestrained people who were killed in crashes, they'll tell you—they wish their loved ones had buckled up," said Lt. Philip Ashby. "The bottom line is that seat belts save lives. If these enforcement crackdowns get people's attention and get them to buckle up, then we've done our job. There is no good excuse for not wearing a seat belt."

«Read the rest of this article»

Nashville, TN – Road construction won't slow motorists down as they travel Tennessee's highways this Memorial Day weekend.
The Tennessee Department of Transportation will suspend all construction-related lane closures on interstates and state routes beginning at 12:00 noon on Friday, May 22nd through 6:00am on Tuesday, May 26th.
«Read the rest of this article»
Nashville, TN – The Governor's Highway Safety Office (GHSO) and the Tennessee Highway Patrol (THP) announced an increase in seat belt usage with an observed usage rate of 87.7 percent statewide for the month of June.  That's an increase from the previous usage rate of 84.6 percent.
The seat belt survey is performed by the University of Tennessee (Knoxville) Center for Transportation Research. The survey, which is conducted in accordance with federal requirements and standards, is state mandated by the National Highway Traffic Safety Administration (NHTSA).

«Read the rest of this article»

Clarksville, TN – The Clarksville Police Department, Tennessee Highway Patrol, Kentucky State Police, Christian County Sheriff's Department, Montgomery County Sheriff's Department, Hopkinsville Police Department and Oak Grove Police Department will be conducting roadside safety checkpoints and saturation patrols on May 16th, and May 17th, 2014 in Montgomery County, Tennessee and Christian County, Kentucky.
«Read the rest of this article»
Poole Elected to Service as Chairman of National Association
Nashville, TN – Kendell Poole, Director of the Tennessee Governor's Highway Safety Office, has been elected the new Chairman of the Governors Highway Safety Association (GHSA), the national nonprofit organization representing state and territorial highway safety offices across the country.
Poole's priorities as Chairman will be to assist states with implementation of the highway safety programs authorized under the new federal highway bill and to continue the organization's national leadership on key highway safety issues including drunk driving, occupant protection, distracted driving and speeding. «Read the rest of this article»
Nashville, TN – Motorists who refuse to wear their seat belts – Beware! The 2012 Tennessee Click It or Ticket seat belt enforcement mobilization kicks off today, May 11th to help save lives by cracking down on those who don't buckle up. It will kick off nationally on May 21st, 2012.
The Governor's Highway Safety Office is joining with other state and local law enforcement officers and highway safety advocates across the country to help save more lives by strongly enforcing seat belt laws around the clock. «Read the rest of this article»
Preliminary Figures Show Decline in Fatal Crashes

Nashville, TN – Preliminary figures from the Tennessee Department of Safety and Homeland Security show 10 people were killed in traffic crashes on Tennessee roadways during this year's 78-hour Memorial Day holiday period.  This is a drop from the 13 fatalities that occurred during the 2010 Memorial Day holiday weekend and 16 deaths in 2009.
The 2011 Memorial Day weekend ran from 6:00pm, Friday, May 27th through 11:59pm, Monday, May 30th. During that time, there were 10 fatal crashes that resulted in 10 fatalities. Six crashes were single vehicle wrecks, while four of them were multiple car crashes. Five of the people killed were vehicle occupants, four were motorcyclists and one was a pedestrian. Three of the five (60 percent) vehicle occupants killed were not wearing safety restraints.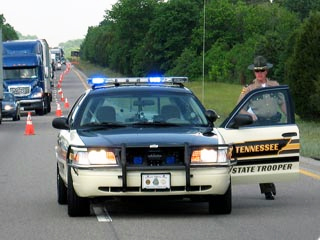 «Read the rest of this article»

Nashville, TN – Preliminary reports indicate 12 people were killed during the 2010 Thanksgiving holiday weekend, compared to 10 fatalities during last year's Thanksgiving Day holiday period.  Statistics for the 2010 Thanksgiving holiday reflect the time period from 6:00pm, Wednesday November 24th, 2010, to midnight Sunday, November 28th, 2010.
In 1983, the fewest number of Thanksgiving holiday period motor vehicle fatalities were recorded with seven, according to the Tennessee Department of Safety.  The highest number of people killed during a Thanksgiving holiday period happened in 1966, when 34 people were killed in crashes on Tennessee roadways. In 2008, there were 10 fatalities during the four-day Thanksgiving holiday weekend and 13 fatalities were recorded in 2007. «Read the rest of this article»