Preliminary Figures Show Decline in Fatal Crashes

Nashville, TN – Preliminary figures from the Tennessee Department of Safety and Homeland Security show 10 people were killed in traffic crashes on Tennessee roadways during this year's 78-hour Memorial Day holiday period.  This is a drop from the 13 fatalities that occurred during the 2010 Memorial Day holiday weekend and 16 deaths in 2009.
The 2011 Memorial Day weekend ran from 6:00pm, Friday, May 27th through 11:59pm, Monday, May 30th. During that time, there were 10 fatal crashes that resulted in 10 fatalities. Six crashes were single vehicle wrecks, while four of them were multiple car crashes. Five of the people killed were vehicle occupants, four were motorcyclists and one was a pedestrian. Three of the five (60 percent) vehicle occupants killed were not wearing safety restraints.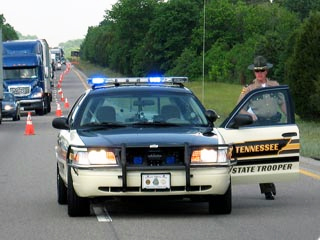 "Our enforcement efforts don't stop once the holidays are over," stated Tennessee Highway Patrol Colonel Tracy Trott. "We are in the business of saving lives, and wearing your seat belt is the single most effective way to protect you and reduce fatalities in motor vehicle crashes. We stress the importance of that year-round." 
The THP will continue its participation in the high visibility national Click It or Ticket campaign through June 5. According to the National Highway Traffic Safety Administration, in 2009 alone, seat belts saved 12,713 lives nationwide. When worn correctly, seat belts have been proven to reduce the risk of fatal injury to front-seat passenger car occupants by 45 percent, and by 60 percent in pickup trucks, SUVs and minivans.
Tennessee State Troopers also teamed up with the Governor's Highway Safety Office (GHSO) and law enforcement agencies in Georgia, Kentucky and Virginia for this year's "Hands Across the Border" campaign.  "Hands Across the Border" was created to bring about awareness of safety belt and child safety seat use across the southeastern states. Participating state and local enforcement agencies sponsor education and community outreach events and provide motorists with literature about the dangers of drunk driving, as well as the importance of safety belt and proper child safety seat use.
In 1973, 26 people were killed in traffic crashes in Tennessee during the 78-hour Memorial Day holiday period, the highest number of deaths on record.  The lowest number of deaths occurred when five people were killed in traffic crashes during the 2002 Memorial Day 78-hour period.
A preliminary 2011 Memorial Day holiday statistical report, which includes the locations of the fatal crashes, accompanies this release. Please note the official traffic fatality count may rise due to delays in reporting and classification of traffic fatalities.
About The Tennessee Department of Safety                                                                                           
The Tennessee Department of Safety's (www.TN.Gov/safety) mission is to ensure the safety and general welfare of the public.  The department encompasses the Tennessee Highway Patrol, Office of Homeland Security and Driver License Services. General areas of responsibility include law enforcement, safety education, motorist services and terrorism prevention.