Topic: Eugene Amano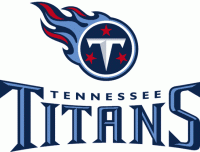 Nashville, TN – The Tennessee Titans have signed safety Tracy Wilson to add depth at the position.
Wilson (6-2, 203) played in the final five games of the season for the New York Jets last year, after spending six weeks on the Jets practice squad. In his limited action, he totaled four tackles and seven special teams stops. «Read the rest of this article»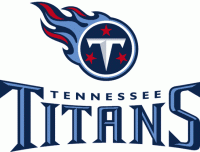 Nashville, TN – Tennessee Titans center Eugene Amano was injured during Thursday night's practice when he was hit by a helmet during pass blocking. Amano will be out for the season with a torn triceps muscle in his right arm.
Amano will have surgery next week.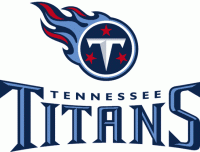 Nashville, TN – Tennessee Titans coach Mike Munchak promised Friday that he would mix things up regarding practice reps in positions where there's open competition.
Munchak was true to his word Saturday in the first practice session as players rotated in and out with different combinations, even alternating quarterbacks Matt Hasselbeck and Jake Locker between the first and second units, sometimes even within the a series.
"We think that's the best way to do it, for them to compete that way, to avoid a lot of things," Munchak said. "Avoid looking at the script beforehand, knowing what plays you are going to get, knowing who you are working with. «Read the rest of this article»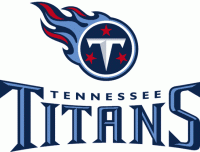 Nashville, TN – Tennessee Titans head coach Mike Munchak's opening state at today's Training Camp Press Conference
I'll just start by welcoming all of you here to opening day. This is our opening day for camp — 2012 Titans camp. Obviously you won't get a chance to watch a practice for a couple days, but we're getting started today. We're excited.
This is probably my 30th NFL camp as a player and a coach. I've probably never said this—I don't think I have said this publicly or out loud, and hopefully you won't repeat it—but this is my favorite day of football. This is opening day, really those first 10 days of camp. «Read the rest of this article»
Titans to pick 20th in NFL Draft
Free Agency begins March 13th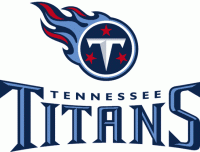 Nashville, TN – When Mike Munchak was hired as head coach of the Tennessee Titans on February 7th, 2011, an uncertain landscape awaited him. The franchise had only recently parted ways with the only head coach in its Tennessee history, and team owner K.S. "Bud" Adams, Jr. had already made the decision to begin anew at the quarterback position.
But the foremost concern on the mind of team management, players and fans alike was whether or not there would even be a football season.
A year later, on the heels of a 9-7 season in which the Titans narrowly missed out on a playoff berth, the franchise is once again enjoying stability and a sense of hope. «Read the rest of this article»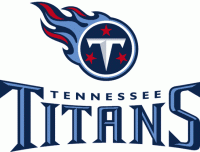 Atlanta, GA – The Titans' present — and playoff hopes — took a hit with a 23-17 loss to the Falcons Sunday, but young players on Tennessee delivered sparks that forecasted a bright future.
Rookie first-round draft pick Jake Locker relieved veteran Matt Hasselbeck (strained elbow) late in the third quarter with Tennessee trailing by 20. Locker showed composure, however, in leading the Titans to touchdowns twice in the three possessions he had at the Georgia Dome.
Rookie fourth-round draft pick Colin McCarthy relieved veteran middle linebacker Barrett Ruud in the second quarter, and finished with a team-high 10 tackles, including three for loss, and forced a fumble by Michael Turner that kept the Titans in the game. Will Witherspoon recovered the fumble, giving the Titans the ball at their own 14-yard-line. «Read the rest of this article»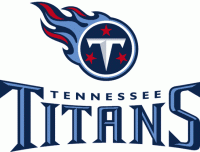 Nashville, TN – General Manager Mike Reinfeldt – (opening statements) – I want to thank everybody for coming today. As Steve said, we'd like to really focus on the draft here. The 2011 draft, I think it's a solid draft. I think there's some real strengths in some areas, and I think there's some other areas that aren't quite as good.
Obviously, some of the questions you might have might be about certain players. Maybe Ruston would start there, and Coach Munchak, more the strengths of the team and the weaknesses and the areas of need. But what I'd like to do is just kind of open it up for questions. «Read the rest of this article»
76th Annual National Football League Player Selection Meeting
Thursday, April 28th-Saturday, April 30th, 2011 • Radio City Music Hall • New York City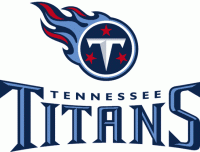 Nashville, TN – The Titans own the eighth overall selection and a total of nine picks in the 76th NFL Draft, a three-day event that begins April 28th and lasts seven rounds.
The NFL will conduct the draft from Radio City Music Hall in New York City, while Titans personnel will be headquartered at Baptist Sports Park in Nashville.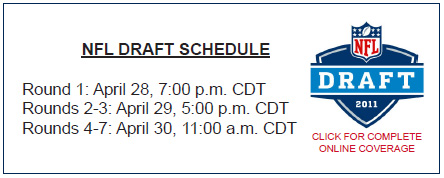 «Read the rest of this article»
Four weeks of practices open to the general public; single-game tickets also on sale July 31st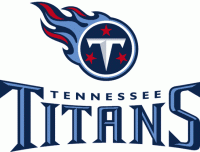 Nashville, TN — The Tennessee Titans begin training camp in Nashville on Saturday, July 31st. Fans are invited to attend a total of 18 practices during the four-week camp, all free of charge. It is the only time of the year that practices are open to the general public.
Once again this year the Titans will conduct training camp practices at Baptist Sports Park, where the vast majority of the team's camps have been conducted since the team moved to Tennessee in 1997. The Titans held camp at Tennessee State University from 1997-98, Baptist Sports Park's Bellevue location in 1999 and their current facility in MetroCenter since 2000 (other than two weeks of camp in 2006 at Austin Peay State University). «Read the rest of this article»