Topic: Hemlock Semiconductor Corporation
Charter School and Virtual School Legislation take the spotlight this week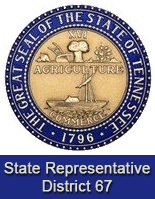 Nashville, TN – Tennessee State Representative Joe Pitts (D-Clarksville) will propose an amendment to House Bill 0151/Senate Bill 0157 proposed by the Department of Education regarding virtual schools.
The administration's proposal to address poorly performing virtual schools will allow the Department of Education to institute enrollment caps, or direct the local school district to close the virtual school if it fails to achieve certain student growth benchmarks two academic years in a row. «Read the rest of this article»

Clarksville, TN –  Tennessee Job Seekers a statewide jobs-growth initiative designed to connect unemployed Tennesseans through social media was launched today by Tennessee State Senator Mark Green.
The program calls on the state and local communities to lend support, experience and resources to those either recently laid off or Tennesseans that are unemployed or under employed.
«Read the rest of this article»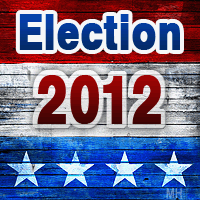 Clarksville, TN – Wallace Redd announces his candidacy for Re-Election to the Clarksville City Council in Ward 4.
"My wife, Helga, and I raised three children right here in Ward 4 over the last twenty-five years." said Redd.
At 53 years old, Wallace and his wife Helga are the proud parents of three children.  Kathrene (31) is a school teacher in Birmingham, Alabama; Christina (26) is a school teacher in Nashville, Tennessee and Wallace III (21) is a senior at APSU.
«Read the rest of this article»
Fort Campbell, KY – Fort Campbell's Army Career and Alumni Program and the Army Community Service Family Employment Readiness Program held back to back jobs fairs, for soldiers, retirees, and their families which saw more than 119 international, national and local employers taking part. Over 4000 people took advantage of the two day event.
Maj. Gen James C. McConville appreciated the opportunity being presented to his soldiers, "Events like this give our well deserving 101st and Fort Campbell Soldiers the opportunity for a "Smooth Takeoff." We have some of the best trained, disciplined and fit Soldiers in the 101st Airborne Division, and they will certainly contribute to our great nation after they leave the Army."
«Read the rest of this article»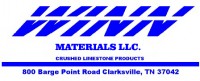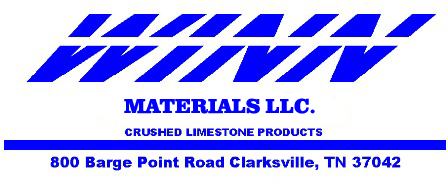 The proposed zoning request by Winn Materials, to allow them to expand their barge port facility, has caused quite a controversy, again.  It seems every time we have an opportunity to bring a barge port to Clarksville, it's met with much opposition.
«Read the rest of this article»

June 9, 2011
Dear Council Members and Citizens of Clarksville:
 The budget process provides an annual opportunity to examine the City's performance and our community's economic health.  Through the budget process, we have the ability to review what we did right and wrong in the current budget, assess our strengths and weaknesses, and plan for future opportunities and challenges that face the community of Clarksville.  As your new Mayor, I have stated that my Administration will be transparent and open about our priorities and goals and that I will keep both the City Council and our citizens apprised of the City's ongoing projects and our financial condition.  Despite serving 12 years on the Tennessee House Finance, Ways and Means Committee and having a good understanding of governmental accounting, I think you can appreciate that with an overall City budget in excess of $418 million in one of the fastest growing Cities in Tennessee, that it has taken a few months for me to review all the areas included in the City's budget.  Therefore this budget will serve not only as the annual budget, but as my first update on the status of City projects and City finances. «Read the rest of this article»
A letter to the editor from Keith Svadba on possible alternatives for funding new school construction and renovation.
Over the last week the school board made a request to the county commission budget committee for 56 million dollars for new construction of two schools and upgrades to North West High School. I do not think that anyone will argue against the need for new schools or that even more will not be needed in the coming years.
The County Commissioners find themselves faced with two options. Either raise taxes, or put off the construction. At present they are looking at a 6 cent increase in property tax from 2.88 to 2.94. This will an option that will be unpopular to most residents, and an undue burden to many. «Read the rest of this article»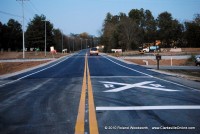 Clarksville, TN – Today workers with RJ Corman Railroad completed the new railroad crossing  and Guthrie HWY ( 79 N ) opens ahead of schedule.  
On Friday night barricades were put in place and traffic was detoured for the construction of the new crossing and drain culverts were installed just north of Hampton Station Road as part of the Hemlock Spur. Crossing gates are also planned to be installed before trains begin to cross Guthrie Hwy.
Jim Johnson Road is also scheduled for closure on October 30th, 2010 as they will also be installing the railroad track and crossing gates. These projects are all part of the Hemlock Semiconductor Corporation Spur project.
Clarksville, TN –
Guthrie Highway  (79 North)  is scheduled to close at 7:00pm on Friday night and remain closed until 6:00am Monday morning as RJ Corman will be installing the new railroad track and crossing gates across the road just north of Hampton Station Road.  A representative from the RJ Corman Railroad stated that the Tennessee Highway Patrol will close Highway 79 and Detour traffic along Tylertown Road. More details of the detour will be released soon.
«Read the rest of this article»
Hemlock Semiconductor Hosts Career Fair in Clarksville on October 14th

Clarksville, TN –  Workers can learn more about the hiring process for hundreds of jobs at the Hemlock Semiconductor, L.L.C. plant in Clarksville at a career fair on October 14th. The company plans to hire 500 full-time workers before the $1.2 billion facility begins manufacturing polysilicon in late 2012. Polysilicon is the cornerstone material used in solar panels.
Workers who want to apply for jobs at Hemlock Semiconductor can get information about available positions for production operators, as well as jobs in skilled trades, loss prevention and occupational health. Hemlock Semiconductor will host the career fair from 9:00am to 7:00pm on Thursday, October 14th, at the Montgomery County Civic Center located at 350 Pageant Lane in Clarksville.
«Read the rest of this article»