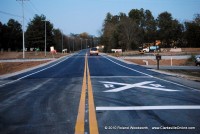 Clarksville, TN – Today workers with RJ Corman Railroad completed the new railroad crossing  and Guthrie HWY ( 79 N ) opens ahead of schedule.  
On Friday night barricades were put in place and traffic was detoured for the construction of the new crossing and drain culverts were installed just north of Hampton Station Road as part of the Hemlock Spur. Crossing gates are also planned to be installed before trains begin to cross Guthrie Hwy.
Jim Johnson Road is also scheduled for closure on October 30th, 2010 as they will also be installing the railroad track and crossing gates. These projects are all part of the Hemlock Semiconductor Corporation Spur project.