Topic: Letter to the Editor
A letter to the editor from Robert Eley, the pilot of the small plane that crashed in a field in Sango, TN
My wife showed me your article on my incident a few days ago and I wanted to thank you for being so accurate with the facts.
The emergency response was top notch by all.  I am blessed to have not harmed anyone and even more blessed of the generosity shown to me by complete strangers. My wife told me that when she would be standing near the roadway, passing cars would stop and not ask what happened, but was everyone okay. This in itself shows what a great community we have here in Clarksville TN. «Read the rest of this article»
Lest we forget…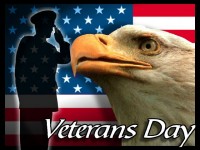 Yesterday was Veterans Day, a day set aside to honor the brave men and women who have taken up arms in defense of America and the freedom of her citizens in wars and conflicts.  It began in 1919 with President Woodrow Wilson's words "To us in America, the reflections of Armistice Day will be filled with solemn pride in the heroism of those who died in the country's service and with gratitude for the victory, both because of the thing from which it has freed us and because of the opportunity it has given America to show her sympathy with peace and justice in the councils of the nations…" «Read the rest of this article»
In a Letter to the Editor, Clarksville Tennessee resident Terry McMoore lays out his support for Mayoral Candidate Gabe Segovia
Gabe Segovia was my city council representative for eight years and while serving as my council representative, I found I could always depend on him to be there if I had a problem or question.
As the average citizen and on the outside looking in there was a lot I didn't know about city government. He was always helpful in informing and educating me on the workings of government and especially city government. Additionally, while he served on the council from 1997 to 2005, he never missed a council meeting. His record is 96-0. He also served as vice-mayor of Clarksville for two years.
Segovia held monthly community meetings where he provided information to the public and citizens could present their concerns and ask questions about the city's actions and programs. Those meetings were not restricted to just residents of his ward; people from anywhere in Clarksville were welcome and many became regular attendees. «Read the rest of this article»
In a Letter to the Editor, Clarksville Tennessee resident Wanda McMoore lays out her support for Mayoral Candidate Kim McMillan
If you really want to know who you should vote for to lead Clarksville during the next four years, I am here to tell you, vote for Kim McMillan. I am casting my vote for the one candidate who has already proven that she is a leader and strong representative for Clarksville and Montgomery County, Tennessee.
In case you didn't know, or may have momentarily forgotten, Kim McMillan has served our community as a State Representative for twelve solid years, during which time her intelligence, leadership capabilities and interpersonal work skills helped to have her elected by her peers as the TN State House Majority Leader.  Kim has experience also in the state Finance, Ways and Means Committee as well as the State Budget Subcommittee.   Additionally, Kim served as Governor Bredesen's Senior Advisor. «Read the rest of this article»
The city-owned Clarksville Gas & Water is unconscionably raising our gas rates, without warning or explanation, and local media is not reporting on it. My January bill was at a rate of 34 cents per 100 cubic feet, and my February bill was at 51 cents per 100 cubic feet, which was a 50% increase over January's bill. Now my March bill is at a rate of 68 cents per 100 cubic feet, which is a 100% increase over January's bill! How much must CG&W charge us in order to create massive public backlash? Please join me, as I am ready to protest now!

Letter to the Leaf Chronicle sent Sunday July 9, 2006:
In "Estate Tax Hurts Black Americans" (Leaf Chronicle July 9), Mr. Deroy Murdock quotes a study that showed that 90% of black business owners "believed" the estate tax hindered long term growth prospects. What people 'believe' is irrelevant in the tax code, however, it is a convenient way to spin the issue. «Read the rest of this article»