In a Letter to the Editor, Clarksville Tennessee resident Terry McMoore lays out his support for Mayoral Candidate Gabe Segovia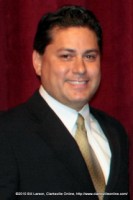 Gabe Segovia was my city council representative for eight years and while serving as my council representative, I found I could always depend on him to be there if I had a problem or question.
As the average citizen and on the outside looking in there was a lot I didn't know about city government. He was always helpful in informing and educating me on the workings of government and especially city government. Additionally, while he served on the council from 1997 to 2005, he never missed a council meeting. His record is 96-0. He also served as vice-mayor of Clarksville for two years.
Segovia held monthly community meetings where he provided information to the public and citizens could present their concerns and ask questions about the city's actions and programs. Those meetings were not restricted to just residents of his ward; people from anywhere in Clarksville were welcome and many became regular attendees.
He made people feel connected to their government, that they had a voice, even when their own representatives didn't make such effort to do so. Since that time, we have become good friends beyond the political realm.
At this point in history everyone is eager for a true difference maker to lead this city. I see Gabe Segovia as that difference maker.
He knows city government understands city government and based on his experience with city government is why I am casting my vote for Gabe Segovia for the next Mayor of Clarksville Tennessee and you should too!
Terry McMoore
Clarksville, TN 37042