Topic: Senator John McCain
Author's Note: This is the first of a series of articles based on the prayer of St. Francis of Assisi beginning, "Lord, make me an instrument of your peace."
John McCain, U.S. Senator from Arizona, was born August 29, 1936 in the Panama Canal Zone. The Panama Canal Zone is a United States Territory, not a state.  President Barack Obama was born in Honolulu, Hawaii, on August 4, 1961. Hawaii was a state at the time of his birth. Much ink and rhetoric has been wasted on whether or not Barack Obama is a citizen, yet few people have any concern about John McCain's claim. The races of the men are different; the political parties of the men are different. Both are citizens of the United States. Let's move on.
Sadly, many people in our country are obsessed with hatred for people who are different from them. Most hatred is based on fear—fear of loss of control, fear of loss of wealth, fear of not being proven superior based on superficial evidence.
Recently, 19 people were shot down at a meeting of a Congresswoman and a few of her constituents. The gun-wielding assassin most likely had felt overcome with fear that his government was not using its powers in the way the gunman wanted.
«Read the rest of this article»
The continuing hysteria about President-Elect Barack Obama's birth certificate has surfaced in Montgomery County in very disturbing ways. Comments to a news story about the Illinois Gov. Blagojevich have leaked over to include this subject. With all the evidence which has been presented on the matter, it defies logic that people are still clinging to these specious claims.
Hawaii birth certificates are not public records, as they are in other states. The Hawaiian Health Dept. Director and Registrar of Vital Statistics have verified that the health department holds Obama's original birth certificate. Furthermore, they have verified that he was born in Hawaii, and is a natural born US citizen. Lastly, Hawaii state law bars release of a certified copy of a birth certificate to anyone who does not have a tangible interest in it. «Read the rest of this article»
As early voting opened in Tennessee to heavy turnouts, Senator McCain's promised thumping of Senator Obama didn't materialize. Groups gathered at both local Republican and Democratic party headquarters to watch the debate, discuss their preferences and hear the candidates present their proposals.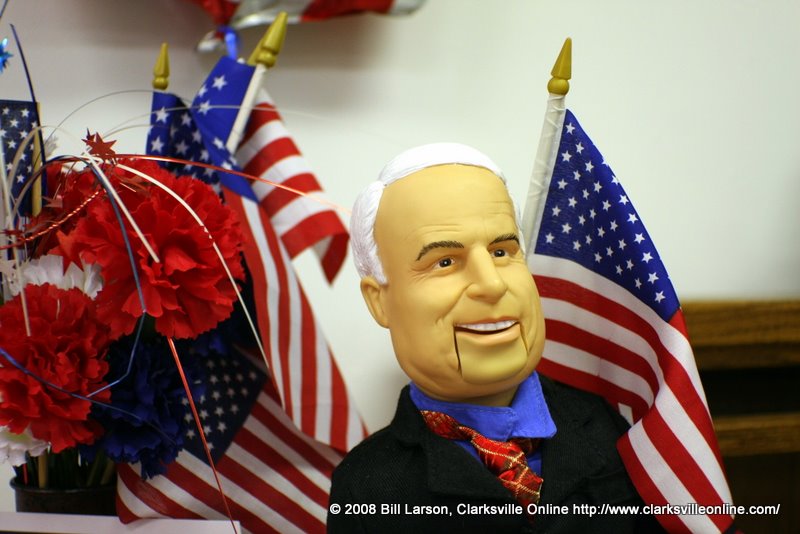 The final candidates debate of the 2008 presidential election season was a much anticipated showcase of America's choices for leadership for the next four years. The debate's focus was to be on domestic policy, with the recent upheaval in the financial markets to be a focal point. The level of negative ads has increased to  near crescendo as McCain's campaign unleashed new charges and the Obama campaign refuted falsehoods and returned the fire to McCain. The debate was supposed to offer a clear demonstration of McCain's superiority to Obama. Sadly, for McCain, the smear adhesive didn't stick.
Viewers were treated to a consistent presentation of proposals and ideas from Obama as he responded to  McCain's attempts to hang negatives.
Obama noted that McCain's own campaign said publicly last week that, "if we keep on talking about the economic crisis, we lose, so we need to change the subject." Such was the tone for the course of the evening. «Read the rest of this article»
In response to John McCain's decision to return to suspend campaigning and return to Washington, his request to postponed the scheduled Sept. 26 debate in Oxford, Mississippi, and in response to the fiscal crisis and a proposed $700 million bail out, Senator Barack Obama spoke out on the issues at a Press Conference Wednesday afternoon. We offer our readers a replay of Obama's statement.
https://www.youtube.com/watch?v=h9PGP3m2hSo
BREAKING NEWS: John McCain this afternoon announced he was suspending his campaign to focus on the economic crisis in America and has requested that the Sept. 26 debate be rescheduled.
President Bush to address nation at 8 p.m. CST.
McCain's decision is a complete about-face from his prior statements  that the United States economy is "fundamentally sound." This is John McCain's statement, released at 3 p.m. today.:
America this week faces an historic crisis in our financial system. We must pass legislation to address this crisis. If we do not, credit will dry up, with devastating consequences for our economy. People will no longer be able to buy homes and their life savings will be at stake. Businesses will not have enough money to pay their employees. If we do not act, ever corner of our country will be impacted. We cannot allow this to happen.
Last Friday, I laid out my proposal and I have since discussed my priorities and concerns with the bill the Administration has put forward. Senator Obama has expressed his priorities and concerns.This morning, I met with a group of economic advisers to talk about the proposal on the table and the steps that we should take going forward.I have also spoken with members of Congress to hear their perspective. «Read the rest of this article»
With two presidential debates being staged in the South, southern universities are being given unprecedented national exposure. The October 7 Presidential Debate will mark Belmont University and Tennessee's elevation onto the presidential election stage.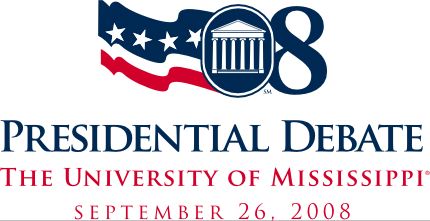 The evening of September 26 will be a busy one with two important political events in Montgomery County. The Women For Obama 19th Amendment Anniversary House Party will be followed by the 1st Presidential Debate Watch Party.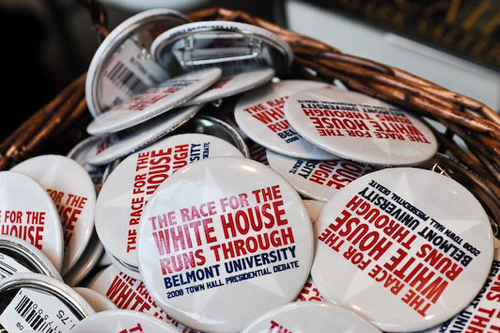 This year's Presidential Debate at the University of Mississippi marks an historic development in U.S. presidential elections political history. This is the first time for the staging of a presidential debate in the state of Mississippi.
Senator Barack Obama and Senator John McCain will appear live to debate issues of concern to the American public in Ole Miss' Gertrude C. Ford Center in Oxford, Mississippi. The debate will be moderated by Jim Lehrer, executive editor and anchor of The NewsHour on PBS. This debate will focus on foreign policy and national security. «Read the rest of this article»