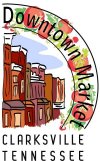 Clarksville, TN – This Saturday at the market will be our "first" dog days at the market since the first one in June was rained out. Patrons are welcome and encouraged to bring their four-legged family members to the market on a leash for a stroll and enjoy the day.
While you are there you and your pet may want to stop by the Clarksville Montgomery Humane Society booth to enjoy what they have to offer during this day. Then be sure to check out the Montgomery County Friends of the Shelter booth for pet treats and information on how to adopt your next forever friend and help give a great home to dog or cat in need.
Also at the market starting at 10:00am, the Mayor's Fitness Council will feature a pet walk, led by Clarksville Mayor Kim McMillan, who will be accompanied by her own Maltese Stevie Ray. She will discuss the health benefits of having pets and lead the public ad their four-legged friends on a walk through Downtown beginning at the lowe parking lot of the market.
Local residents, visitors and their pets are invited to join Mayor McMillan and members of the Mayor's Fitness Council for this pet-friendly event. Pet Walk with the Mayor is the latest in the monthly series of fitness-related promotions in which the Mayor participates in various activities to help people begin or enhance their healthy lifestyles.