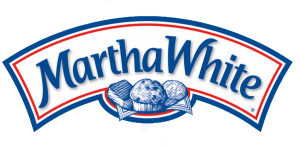 Nashville, TN – Superstitious or not, most Southerners like to start off the new year with black-eyed peas to ensure good luck during the coming year. So there is no better time to serve your good luck charm than a day when superstition abounds – game day.
There are all kinds of options for serving black-eyed peas at a New Year's game day party, but one thing that is not optional is cornbread to serve with black-eyed peas. This year try Black-Eyed Pea Salsa with Cheddar Cornbread Dippers.
The sky is the limit for ingredients that can be added to the peas, but we're taking a little shortcut and adding peas to prepared salsa with the addition of a few other vegetables and herbs for added crunch and flavor.
"The cornbread dippers are a breeze to make with a cornbread mix," explained Martha White® baking expert, Linda Carman. "All you do is bake a cornbread mix, cut into strips and bake again to create a crisp texture."
With your black-eyed peas on New Year's Day, you can rest easy for another year and maybe those peas will bring good luck to your favorite team, too.
For other great game day recipes, visit www.marthawhite.com [1].
Black- Eyed Pea Salsa with Cheddar Cornbread Dippers
Salsa
1 (16-oz.) jar chunky salsa (mild, medium or hot)
2 (16-oz.) cans black-eyed peas, drained
1 (11-oz.) can corn with chopped red and jalapeno peppers, drained
1 medium green bell pepper, chopped
4 tablespoons fresh lime juice
1 teaspoon garlic salt
2 tablespoons fresh cilantro, chopped
Cornbread Dippers
Crisco® No-Stick Cooking Spray
2 (6 oz.) pkgs. Martha White® Buttermilk Cornbread Mix
2 large eggs
1 1/4 cup water
2 cups shredded sharp cheddar cheese
1 teaspoon crushed red pepper
Directions
1. Combine all salsa ingredients in large bowl. Cover and chill until serving time.
2. Heat oven to 450° F. Spray two 8×8-inch pans with no-stick cooking spray. Combine cornbread mix, eggs, and water in large mixing bowl. Stir until blended. Stir in cheese and red pepper.
3. Divide batter between pans. Bake 20 to 25 minutes or until golden brown. Remove from oven. Turn out onto cooling rack. Cool completely.
Reduce oven temperature to 350° F. Cut each cornbread into 1/2-inch thick slices with serrated knife. Cut each slice in half crosswise. Place in single layer on large baking sheet. Bake 10 minutes. Turn and bake 8 to 10 minutes longer or until crisp and golden brown. Serve with chilled salsa.
Makes 5 cups salsa and 48 dippers
---
Crisco is a trademark of The J.M. Smucker Company.