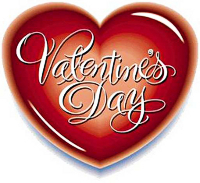 Valentine's Day is for women. Everyone knows that. If this holiday was for men, it would be called "Respect Day' because men need respect. Women need love, therefore they appreciate the concept of Valentine's Day because it celebrates love, and therefore it celebrates women.
But Valentine's comes with a lot of pressure. Women are waiting in their offices, secretly wondering if they will receive flowers or balloons, while other women in their office are oohing over their over-the-top bouquets with cards attached written by florists, not their husbands. So ladies, let's put ourselves in our fella's shoes for a minute and imagine what he probably wants for Valentine's.
A reminder– You don't have to bonk him over the head, but if he is bad with dates, a simple reminder to him or on his calendar goes a long way. Don't try testing him to see if he remembers. He might not! And that would stink for both of you!
Alone time– But "Wait!" you say, "this is Valentine's Day!" You are correct kind lady, but keep in mind that when your hubby has a little space from you, he has time to miss you, and he has time to think of ways to please you. Keep your honey-do list short over the next couple of weeks so he has time and energy to dream up something special.
Not to be outdone­– They know they are supposed to do something sweet for you. The sea of red and pink in every store across the nation helps drive the point home. More than likely, he is not expecting a gift from you. He likes being fed. He likes being thought of. A gesture is more important than a gift, and if you outspend him, he might feel like he failed you.
Praise– No, he's not a puppy, so let's not condescend him. But romance and romantic efforts don't come naturally for a lot of guys. If he tries to be romantic or thoughtful and he gets a lukewarm response from you, he might not try again for a while. He will probably feel silly for getting it wrong. Recognize and show appreciation for his efforts.
Sex– Yeah. I said it. I was trying to think of a way to say it tactfully, but I didn't want you to miss the point. This would be a bad point to miss ladies. He has a couple of goals in mind. One is to see you happy. The other is to have great sex with you. He knows he is in charge of pushing the romantic envelop and setting the stage for a nice evening. He is banking on you to come through.  Are we tracking?
The bottom line is have fun and enjoy your husband! Don't set up silly or unrealistic expectations. We can't use holidays as an excuse to act spoiled. Remember, you have to face him the other 364 days of the year!
Check in next Sunday for "What She Really Wants for Valentine's," a great way to gently remind your hubby the holiday is approaching!