Topic: Consumer Reports
Tips for buying primo makeup and skin-care products at drugstore prices

Yonkers, NY – The price of beauty products can get ugly, but ShopSmart, from Consumer Reports, found that shoppers don't always have to shell out big bucks for products comparable to brand-name items
In its December 2014 issue, ShopSmart experts scoured the beauty aisles of department stores, drugstores and boutiques to find high-priced products shoppers can swap out to save big. «Read the rest of this article»
CVS, Discover, and JetBlue among those that make CR's "Nice" List; Overstock.com, Victoria's Secret, and Spirit Airlines join others who earned lumps of coal

Yonkers, NY – Consumer Reports today unveiled its fifth annual Naughty & Nice List of company policies and practices.
The list includes retailers, airlines, telecomm companies, and others that have been dinged for hidden or annoying fees, stingy return policies, and bad behavior, or lauded for transparency, generosity, and generally making consumers' lives easier. «Read the rest of this article»
CR survey finds 63% of Americans believe a gluten-free diet would improve physical or mental health—but cutting gluten isn't always more nutritious or better for most people

Yonkers, NY – Gluten, a protein found in wheat, barley, and rye, has become the latest dietary villain, blamed for everything from forgetfulness to joint pain to weight gain.  But Consumer Reports (CR) is shedding light on common misconceptions about going gluten-free.
The report points out that a gluten-free claim doesn't mean the product is necessarily more nutritious, it may actually be less so; that consumers may increase their exposure to arsenic by going gluten-free, and a gluten-free diet might cause weight gain—not weight loss. And, most gluten-free foods cost more than their regular counterparts. «Read the rest of this article»
Seven percent of Americans still paying off last year's holiday debt

Yonkers, NY – A majority of Americans say they're looking forward to the winter holidays with a quarter of respondents "really looking forward" to the season's greetings, but most don't plan to break the bank this year, according to Consumer Reports' first holiday poll.
Consumer Reports' poll found 62 percent of respondents are excited about the coming of the winter holidays, while only one in 10 of those surveyed have caught the holiday humbug and said they're not at all energized about this festive time of year. «Read the rest of this article»
Troublesome Q50, QX60 models drop Infiniti 14 spots; Lexus tops rankings

Yonkers, NY – Multi-function, cross-linked infotainment systems and the associated in-car electronics are a growing reliability plague for many brands, according to Consumer Reports 2014 Annual Reliability Survey.
First-year models from Infiniti, Jeep, Fiat, Ram, Cadillac, Ford, and Honda have all seen significant problem rates from infotainment bugs and glitches. Of the 17 problem areas CR asks about in its survey, the category including in-car electronics generated more complaints from owners of 2014 models than for any other category. «Read the rest of this article»
Survey Finds 86% of Americans Would Want to Spend Their Final Days at Home; Only 47% of those 65+ Have a Living Will

Yonkers, NY – A good death can be hard to achieve without advance planning according to a new End-of-Life Guide, including survey findings on how Americans want to die, and published in the December issue of Consumer Reports and online at www.ConsumerReports.org/EndOfLife.
The report and accompanying 17-minute video documentary chronicles the last months of Paul Scheier, an 87-year-old retired dentist from Orchard Park, NY, who succumbed to lung cancer – doing so under the conditions that he outlined in advance – in his own bedroom with his wife of 62 years, and their four grown children, at his side. «Read the rest of this article»
The best times to shop and save

Yonkers, NY – Time is money, and sometimes shopping at specific times can lead to big savings. The November 2014 issue of ShopSmart, from Consumer Reports, uncovers the best times to look for and score bargains throughout the holiday season.
"Whether shoppers are looking for gift cards, groceries, or winter clothes, we wanted to discover the times where they would be most likely to get a great deal," said Lisa Lee Freeman, editor-in-chief of ShopSmart. "The holidays can be an expensive time, and it's important to look for little ways to save." «Read the rest of this article»
Over 2,000 Medical Professionals Call on Trader Joe's to Stop Selling Meat Raised on Antibiotics

Yonkers, NY – The overwhelming majority of doctors— 93 percent—are concerned about the common meat industry practice of using antibiotics on healthy animals for growth promotion and disease prevention, according to a new poll released today by Consumer Reports.
The Centers for Disease Control and Prevention and many other public health organizations have warned that the misuse of antibiotics on healthy livestock is making these medications less effective for treating disease in people. «Read the rest of this article»
Analysis finds eating certain species could put consumers at higher risk for mercury exposure; CR advises pregnant women not to eat tuna at all 

Yonkers, NY – Consumer Reports released its own analysis of the most recent government data on mercury in fish, found that it continues to be critical for consumers to pay close attention to the fish they consume, and has updated its advice for consumers.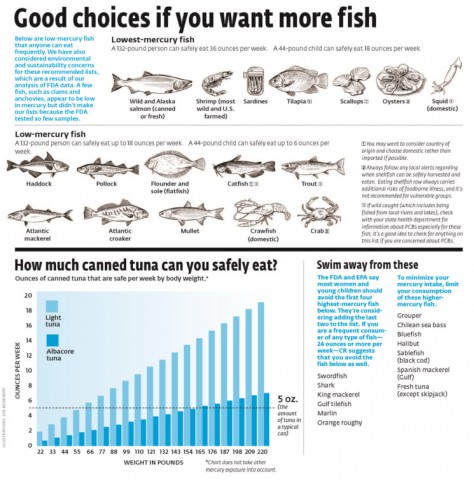 «Read the rest of this article»
Survey Finds 64 Percent of People Think "Natural" Means No GMOs; Virtually All Samples of Tested Products with Only "Natural" Label Contained Substantial Levels of GMOs
Organization Calls for Mandatory Labeling of GMOs in Food, and a Ban on the "Natural" Label

Yonkers, NY – Consumer Reports tested a wide variety of packaged-food items containing corn or soy – and found that genetically modified organisms, or GMOs, are present in many common products including breakfast cereals, chips, and infant formula. Some carry labels like "natural," suggesting that they don't have these controversial ingredients.
A recent survey of 1,000 American adults conducted by the Consumer Reports National Research Center showed that a majority of people – 64 percent – mistakenly equate "natural" with no GMOs. «Read the rest of this article»