Topic: Consumer Reports
About half of samples tested had at least one bacteria resistant to three or more classes of antibiotics; bacteria were more resistant to antibiotics approved for use in chicken production

Yonkers, NY – In its most comprehensive tests of meat and poultry to date, Consumer Reports found bacteria that could make consumers sick on nearly all of the 316 raw chicken breasts purchased at retail nationwide.
While Consumer Reports has consistently been testing chicken for more than 15 years, this is the first time it has looked at the contamination rates for six different bacteria – enterococcus (79.8 percent), E.coli (65.2 percent), campylobacter (43 percent), klebsiella pneumonia (13.6 percent), salmonella (10.8 percent), and staphylococcus aureus (9.2 percent). «Read the rest of this article»
The winners and losers from more than 3,300 products tested in 2013

Yonkers, NY – Not every product lives up to its claims, and others sometimes exceeds expectations.
The January 2014 issue of ShopSmart, from Consumer Reports, spotlights dozens of products in six categories – cleaning and home improvement, food and wine, cooking and food prep, electronics, everyday products, and cars – that stood out in tests and identifies fifteen that weren't up to par. «Read the rest of this article»
Amazon.com beat the competition in price scan of everyday hair-removal products; CVS often had the highest prices on razors, blades, creams and more

Yonkers, NY – Razors, blades, creams and other hair-removal products can be costly, but don't have to be.
The November 2013 issue of ShopSmart, from Consumer Reports, features findings from a price scan of hair-removal items that most of the time found Amazon.com had the lowest prices on products from well-known brands.  The full report is also available online. «Read the rest of this article»
Online Sites that will save shoppers time, money and aggravation this holiday season; Plus, five new shopping apps worth trying

Yonkers, NY – With the holiday season just around the corner, now's the time to develop a savings strategy for purchases. The November 2013 issue of ShopSmart, from Consumer Reports, showcases new online sites and apps that make shopping faster, easier, and more fun while saving money, and these services are free! «Read the rest of this article»
Analysis Found Expensive Care Doesn't Mean Better Care

Yonkers, NY – For the fourth year in a row, Consumer Reports published rankings of hundreds of health insurance plans across the United States to help consumers determine which ones may be best for them.
This marks the first time the organization took additional steps to identify plans that both provide high-quality care and avoid costly care.
The rankings data and the "Best Value" designation come from the National Committee for Quality Assurance (NCQA), a respected non-profit health care quality measurement group. «Read the rest of this article»
Simple tips for staying safe and preventing injuries

Yonkers, NY – Absent-minded mistakes in the kitchen cause many  cuts, burns, and other injuries.  The October 2013 issue of ShopSmart, from Consumer Reports, identifies the kitchen products that cause the most harm and simple ways to avoid them.
"It's easy to make a mistake in the kitchen when you're in a rush or in a post-workday haze," said Lisa Lee Freeman, editor-in-chief of ShopSmart. "But there are simple things you can do to avoid landing in the hospital." «Read the rest of this article»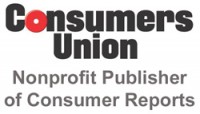 Washington, D.C. – At a press conference today, Senator Richard Blumenthal (CT) and Representatives Frank Pallone (NJ) and Rosa DeLauro (CT) announced new legislation aimed at updating the requirements for food labels in order to give consumers more information when choosing what to feed their families.
The Food Labeling Modernization Act of 2013 would give consumers more of the health information they need to better compare and evaluate products by strengthening the standards for nutritional labels on food and by eliminating vague or unclear claims that can mislead consumers. «Read the rest of this article»
Showdown between the Silverado 1500 & Ram 1500 was neck-and-neck

Yonkers, NY - In a heavy-metal duel between two top pickup trucks, the Chevrolet Silverado 1500's "Excellent" road-test score makes it Consumer Reports' top-rated truck. But testers point out that the second-place Ram 1500 may be a better daily driver.
Each model won skirmishes along the way, and they finished one-two in a competitive pickup truck category— separated by only three points. Both trucks outscored the previously-tested Ford's F-150 XLT, which 3.5-liter EcoBoost turbo V6 and 5.0-liter V8 versions rank third and fourth respectively.
«Read the rest of this article»
Not all TV gadgets solve fashion jams.  One gadget worth a go; four products to skip.

Yonkers, NY – Many TV products claim to be quick-fix solutions for wardrobe malfunctions – but will they really bail shoppers out of last-minute fashion jams?
The October 2013 issue of ShopSmart, from Consumer Reports, highlights findings from its test of five fast clothing fixes –  finding only one worth a try – and other pro tricks to try in a pinch that can combat lint, blouse gaps, hems and more. «Read the rest of this article»
Tips that will make vehicles shine inside and out; plus, the best cleaning tools

Yonkers, NY – Summer road trips can be taxing on a vehicle's interior – cup holders and crevices are likely soiled with dust and dirt.
The September 2013 issue of ShopSmart, from Consumer Reports, identifies five ways consumers can give their car a makeover without spending a fortune and the best tools for making it shine. «Read the rest of this article»