Topic: Consumer Reports
Analysis finds eating certain species could put consumers at higher risk for mercury exposure; CR advises pregnant women not to eat tuna at all 

Yonkers, NY – Consumer Reports released its own analysis of the most recent government data on mercury in fish, found that it continues to be critical for consumers to pay close attention to the fish they consume, and has updated its advice for consumers.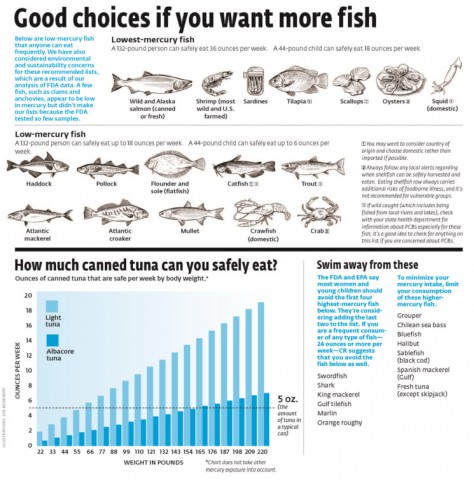 «Read the rest of this article»
Survey Finds 64 Percent of People Think "Natural" Means No GMOs; Virtually All Samples of Tested Products with Only "Natural" Label Contained Substantial Levels of GMOs
Organization Calls for Mandatory Labeling of GMOs in Food, and a Ban on the "Natural" Label

Yonkers, NY – Consumer Reports tested a wide variety of packaged-food items containing corn or soy – and found that genetically modified organisms, or GMOs, are present in many common products including breakfast cereals, chips, and infant formula. Some carry labels like "natural," suggesting that they don't have these controversial ingredients.
A recent survey of 1,000 American adults conducted by the Consumer Reports National Research Center showed that a majority of people – 64 percent – mistakenly equate "natural" with no GMOs. «Read the rest of this article»
Consumers can save thousands of dollars on repair bills by taking advantage of unadvertised programs that provide free or discounted service work

Yonkers, NY – In its latest look into the world of car maintenance, Consumer Reports found car owners can save a significant amount of money if their vehicle qualifies for what carmakers typically call service actions or customer service campaigns—effectively secret or hidden warranties are rarely announced to the public.
Two examples: Owners of 2006 to 2009 Honda Civics may qualify for a free engine block, or even a whole new engine, if their car has been leaking coolant from a crack in the block. «Read the rest of this article»
Seven years after the Great Recession, consumers are finally opening their wallets, making long-delayed purchases and undertaking postponed life decisions

Yonkers, NY – The Great Recession of 2007 caused the once-prolific American shopper to go into a prolonged scrimp mode.  Now, some seven years later – and more than 5 years after the recession officially ended — the tide has turned, according to a groundbreaking Consumer Reports study.
A nationally representative survey of 1,006 adult Americans conducted by the Consumer Reports National Research Center revealed that people are now in the market for major purchases like homes, cars, and appliances – and that they plan to spend even more money in the coming year. «Read the rest of this article»
Folgers and Maxwell House topped by money-saving store brands and specialty brews

Yonkers, NY – When it comes to coffee, big names don't always deliver great flavor.
The November 2014 issue of ShopSmart, from Consumer Reports, highlights results from its taste-tests of whole-bean, ground, and pod coffees in which brews from Folgers and Maxwell House didn't stand up to offerings from specialty brands including Allegro, Peet's, and Starbucks.
«Read the rest of this article»
How to decide on where to sell furniture, artwork, clothing, collectibles and more; Plus, what consumers can do when they can't make a sale

Yonkers, NY – Many basements, attics, and garages are bursting with unwanted possessions and their owners may be surprised by how much they can make by selling them.
Consumer Reports has put together a comprehensive guide to help consumers get the most money for their stuff that includes information on where to sell items, when to get them appraised, and what to do when selling efforts are unsuccessful. «Read the rest of this article»
Plus, tips on avoiding these new consumer traps

Yonkers, NY – Misleading discounts, deals, and sales that can cost consumers big bucks and prices that aren't always apples-to-apples comparisons are just some of the shopping scams and bum deals recently uncovered by ShopSmart.
In its September 2014 issue, ShopSmart, from Consumer Reports, shares tips and advice on how to recognize these shopping pitfalls, and avoid them. «Read the rest of this article»
Tests finds Volvo S60 is a solid, practical competitor

Yonkers, NY – The recently freshened Buick Regal and Volvo S60 are giving their sportier and more prestigious competitors from BMW and Mercedes-Benz serious competition, in Consumer Reports latest tests.
Consumer Reports engineers found the Regal's performance, handling and easy infotainment system appealing. That helped the Regal beat the Volvo S60 in a head-to-head road test.
«Read the rest of this article»
Plus, twelve alternative ways to save at the supermarket without the hassle of using coupons

Yonkers, NY – In a new national survey about shopping and saving on groceries featured in the September 2014 issue of ShopSmart, from Consumer Reports, 28 percent of women said they can't be bothered with coupons, and 15 percent called them a "necessary evil."
So for those who don't like dealing with coupons, ShopSmart has identified 12 coupon-free strategies that can help shoppers save at the supermarket – as a price scan by secret shoppers revealed it's all about where consumers shop, and what they buy. «Read the rest of this article»
CR urges U.S. Food and Drug Administration to take stronger steps to reduce the dangers of pain-relief medications

Yonkers, NY – Some pain relief medications can be as addictive as heroin and are rife with deadly side effects.
Every day, 46 people in the U.S. die from legal pain pills and for each death, more than 30 people are admitted to an emergency room because of opioid complications. Consumer Reports has taken a close look at the dangers of prescription and over-the-counter painkillers and is calling on the U.S. Food and Drug Administration (FDA) to do more to make these drugs safer. «Read the rest of this article»