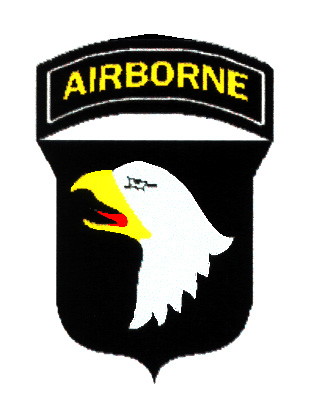 Following approval by the State of Tennessee last summer and special action by the Association Board of Governors in November, vehicle owners/lessees in the Volunteer state may soon have the opportunity to acquire a specialty license plate honoring the 101st Airborne Division (Air Assault).
Before Tennessee begins production of the plates, the 101st Airborne Division Association, with its headquarters located on the Tennessee side of Fort Campbell, must pre-sell 1,000 of them at $35 each (additional registration fees apply). If the Association fails to reach the 1,000 pre-sale minimum requirement, all purchase amounts will be returned.
L-R Representative Curtis Johnson, 101st Airborne Division Association Secretary/Treasurer Sam Bass and Representative Rosalind Kurita stand outside the Clarksville, TN Courthouse with the newly designed 101st license plate.

Photo by 101st Association Graphic Designer, Catie Rodriquez
Net proceeds from the sale of the plates will be allocated 50% to the 101st Airborne Association; 40% to the Tennessee Arts Commission; and 10% to the State Highway Fund. Sales are restricted by the legislation to registered vehicle owners of Tennessee.
The Board of Governors also acted to establish an "Eagle Spirit Fund" to which members of the Association can contribute "one or more amounts of $35.00" to purchase a 101st Airborne Division (Air Assault) special license plate for an active duty Screaming Eagle residing in Tennessee.
The Association has initiated a campaign to get the sales program into action. Joe Alexander, Association President and Knoxville resident, expressed his appreciation to the State of Tennessee for working with the Association on this project, and noted the significance of the program.
"It is important that we give a maximum effort to this project because it is not only a way to secure an ongoing source of revenue for the Association but, even more importantly, it is an opportunity to honor those who have worn the Screaming Eagle patch of the 101st Airborne Division (Air Assault) in both war and peace time since its inception in 1942." — Joe Alexander
The 101st license plate was designed by the Association in conjunction with the State of Tennessee. Legislation to create the 101st Airborne Division plate was introduced by Tennessee State Senator Rosalind Kurita (22nd District) and State Representative Phillip Johnson (78th District).
Using the print button at the top of this story, you can print out the text and the following form to order your plates, or you can copy and paste the form into your Word program on your computer.
101st License Plate Order Form
101st Airborne Division (Air Assault)
Specialty License Plate for Tennessee residents registering privately owned motor vehicle(s)
Questions? Please call ASSN. HQ: (931) 431-0199 ex. 31
(Please print clearly)
1st Plate # preference :
2nd Plate # preference :
Plates can only be numbered from 0000 to 1000. Personlized plates can be ordered when the plate is renewed.
Reserve your Screaming Eagle license plate today for $35, one-half of which will go to the 101ST AIRBORNE DIVISION ASSOCIATION, to:
Vehicle Owner's Name: __________________________________
Street Address:_________________________________________
City: _____________________ State:___ TN Zip Code: ________
County: _______________________________________________
Owner's Signature: _____________________________________
Telephone (Include Area Code): ___________________________
Present License Plate Number: ____________________________
Check Payment Method:
Credit Card______ Money Order_______
Exp. Date :_____________________________________________
Credit Card #:__________________________________________
Plate cost is $35.00 each
(additional registration fees apply)
Make payment out to the 101st ABN DIV ASSN.
Send form and payment to:
101st Airborne Division Association
PO BOX 929
Fort Campbell, KY 42223
For more information or for plate questions, call (931) 431-0199 ex. 31
ORDER EARLY FOR LOW NUMBERS