A vulture nearly flew into my face. That was just one of the adventures that happened at Dunbar Cave during the annual Spring Fling on Saturday, April 26. Hundreds of people came out to see live raptors, snakes, amphibians, and rescued wildlife.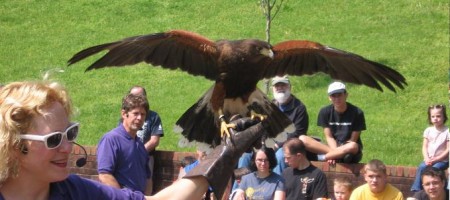 Over the course of the day's events, visitors took hikes, pausing to look at wildflowers or spot birds along with the general trekking. They learned about bluebirds, backpacking and many other things, topping off the day with the opportunity to canoe in the lake. Dozens of enthusiastic volunteers helped set up and take down equipment for this annual event, which was sponsored by the Friends of Dunbar Cave, the Warioto Audubon Chapter, Tennessee Trails Association and TN Wildlife Resources Agency.  Access to canoes was arranged by the Dunbar Park manager.
The event also attracted the interest of Tennessee's Wild Side, a television show that came to film parts of this event. What was supposed to be a rainy morning was in fact a clear, sunny day with a nice breeze, a perfect spring day for this type of event.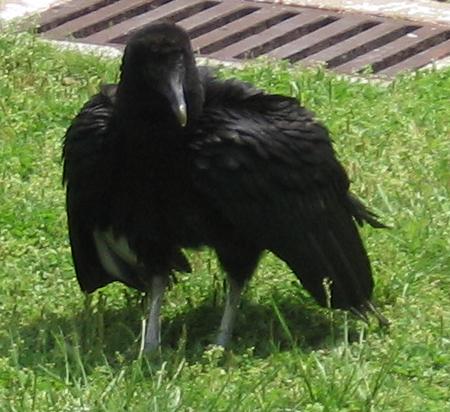 But back to me and a vulture in my face. Casey the vulture had been flying over people's heads to the waiting arm of Dale of SOAR (Save our American Raptors). Dale passed by me as I was looking down at my camera and Casey almost flew right into me as he was trying to catch up with Dale. It was an "accidental" flight that none of us were prepared for, especially me.
During the SOAR show we heard John and Dale hoot out barred owl calls. The audience was encouraged to hoot back. John and Dale walked owls and hawks through the audience for a close look and picture taking. Seeing these birds close up is a thrill. SOAR told us about the raptors as they did their demonstrations. They flew several raptors over our heads.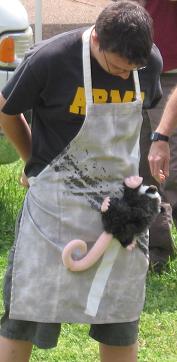 "Have you ever had a vulture land on you?" they asked Shaun, a volunteer from the audience. Shaun was told to wear the "road kill" apron and lay on the ground like road kill. That was funny to us but had no interest to Casey the vulture. Shaun was able to catch Casey in flight. See more about SOAR at: http://soarsouth.blogspot.com/
Later in the day I became one of many, inching my way through the crowd of mostly children to touch a snake. Reptiliacs Donny and Sherry Howell shared stories about their love of snakes, all but hypnotizing their audience. "Don't be so anxious to kill snakes," Sherry told us, explaining that they eat many unwanted creatures like mice and rats. They help us more than they hurt us; our fear of them is unfounded. Even when she was bitten by one of her snakes while feeding it, it was her fault, she says. Her love for a creature that she once was terrified of is complete.
As the day passed, I saw a two foot long snapping turtle, an American eagle, and frogs. I watched hawks fly over people's heads. I learned about how backpacking with a tent can make you realize that tap water is a miracle, and that even though you have the smallest camp stove, there's probably an even smaller, lighter one available. The only bird that smells things is the Turkey buzzard. I know to bring injured wild animals to Walden's Puddle http://www.waldenspuddle.org/
I heard hearty thank-yous, thank-you VERY much, given by people getting out of the canoes after paddling around Swan Lake. The Friends of Dunbar Cave extend their thanks to all the volunteers and participants for their engaging support.
Here are more of the images from the 2008 Spring Fling: