This author at the Clarksville Writer's Conference put a high powered jolt into our coffee. When she was done speaking my hand went up in the air. 'How do you get away with this? ' was all I could muster. Having had countless discussions about what is right and wrong about war according to the Bible, I lack in the background needed to truly make a stand for the message of Jesus. I have never been a Baptist and I am not a child of a Vet killed in war. Several people talked to Karen after her talk saying they are deeply religious as she is, but also opposed to fear based hate.
Karen Spears Zacharias: Author of Revelation from a Potty Mouth Believer and Where is Your Jesus Now
Where is Your Jesus Now is taken from the crime story about a grandma being taken hostage by her son. Tied up to a chair with a gun pointed at grandma's head he said to her, Where is your Jesus now? She looked him in the eyes and said calmly, He's right here. Karen said that in the midst of all that danger, threatened with death, she answered with love and faith, not fear.
Karen said that is true belief. Since 9/11 our community of faith has reacted opposite to grandma. Everyone has been under the gun. They don't know the answer to where Jesus is. The answer has become hyper fear and chaos.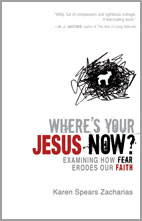 Awhile back Karen interviewed a few war widows living in Clarksville. One woman liked living in a cul-de-sac so that she could see who is coming. She worried that her son would be attacked at school by terrorists. Karen said one widow supported attacking Iraq and she thought they should stick bombs in the bodies of dead Iraqi children to blow up all who retrieved them. Iraq is the 7th ring of hell, the woman said.
Karen is very religious but is very outspoken about the fear that Christians are spreading around. Fear that justifies dehumanizing Iraqis and Muslims. She sees Christians believing that the white guys are good guys and the bad guys are Islamic. Preachers here keep their congregations in terror while offering some safety at the same time. It's like a child dependent on an abusive parent she said. Christians behave as though they are the best worshipers of god. She said God serves us, all of us. God isn't about favoritism.
The media has done its part praying on fear and guilt. People believe that you have to support the war or you're not supporting the soldiers. But you can't impose democracy on someone she said.
Karen's father was killed in Vietnam. She does not want to be told that her father died in vain. He did not. He died to guarantee their freedom. She lived the lack of support that was offered to her family for their sacrifice. She said that a soldier gives all and Congress should not exploit that sacrifice. They should have a good reason for going to war. She said that during no war has there ever been a designated fund for Vets.
Karen says what we have now is "certainosity". Certainosity is a religion about people having to be right instead of being redeemed. There are a lot of people stuck in certainosity, not just with religion reasons. Underlying Certainosity is fear. When she was a young Southern Baptist she experienced a profound fear when Elvis died. It took her over and she looked at life and death through fear glasses. She knows that when people think in fear, they are not right in the head. They will be as bright as a burnt out bulb. They will experience a case of the simples.
She asks if Christians are of faith or fear. Can they look fear in the face and say, Jesus is right here with me?  God did not give us the spirit of fear, she said. Since 9/11 she sees only despair. People send out messages of entitlement. They say God is devoted to us, not we are devoted to God. God loves wealthy children. That's fear-controlled and a bad case of the simples, she says. When we make decisions based in fear we are already defeated. There's no question that these are troubling times but we've plum forgotten that we're supposed to be encouraging one another. The Bible says so.
Karen grew up in the South and now lives in Oregon. She said that in Oregon she's considered an extreme conservative. Here she's an extreme liberal. Why is she a writer? At lunch she told us a touching story about the time she wrote a eulogy about a man who had died. About two years later, the son of the man told her how very much that writing had meant to him. That's why I write; on the chance that it may say what needs to be said.