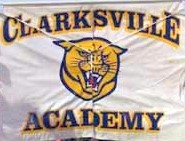 Clarksville Academy's school year is off to a brisk start, with new programs, activities and announcements for families and the community. The school mission is to promote academic excellence, moral integrity, and physical and social growth.

News Channel 5 films Clarksville Academy classes
Photojournalist Charlie Woodward and an intern from News Channel 5 visited our campus last week to shoot a feature story for "School Patrol" which airs each Wednesday evening on the 6:00 P.M. news.  Two classrooms, Mrs. Frost's fourth grade and Mrs. Huggins' Honors Algebra II, were the focus of the filming.  These reporters were extremely impressed with our school, faculty, and students.  They commented off camera that from their observations while visiting schools across the state, Clarksville Academy is on the leading edge of blending technology with student learning. The scheduled times for airing are:  September 3 at 6:00 P.M. and September 4 at 9:00 A.M. In addition, the story may air on one of the Saturday newscasts.  Please note:  These are scheduled times and are subject to change.
Sc
hool Photo Day
: Individual fall photos for all students in grades PK – 11 will be made on Thursday, September 4.  The photographer recommends that students wear colorful clothing. Pullovers or tee shirts with writing on them do not photograph well.  In a few weeks, parents will receive a proof envelope to view with a selection of packages to order if you wish.  Questions?  Please contact the school office.

Seniors sell Smart Cards
: Members of the Class of 2009 are selling Clarksville/Montgomery County Smart Cards to raise funds for their class trip.  If you are interested in purchasing a Smart Card, please contact a senior or send $12.00 for each card you wish to purchase to your child's teacher and the card will be sent to you.  Thank you for supporting our seniors!

Sports passes available
: Season passes for all home sports events are on sale in the Business Office for $50.00 each for students or adults.  This will allow the pass holder admission to all home, regular season games.  See Mr. Turnage or Mrs. Henson to purchase your pass.

Magazine sale underway
: Last year we had requests from parents to receive magazine sale packets early in order to allow extra time to contact out-of-town friends and relatives. Although the magazine sale officially begins on September 11, the sales packets were distributed early this year.  We hope this allows every family to reach the goal of $100 in sales per student by the final turn-in date of September 23.

Loaves and Fishes fundraiser
: Loaves and Fishes, "An Agency Working to Feed the Hungry", invites everyone to their Louisiana Saturday Night fundraiser on Saturday, September 13th from 4:00 – 7:00 P.M. Tickets are $10.00 per person and are available at the door.  There will be Cajun food galore!!  Carry outs are available.  This agency provides meals for the hungry of Clarksville six days each week.
Clarksville Academy is in need of the following items:
Gas grill
Life-size cut out of sports or entertainment figure
Washing machine
Clothes dryer2-wheel hand cart
If you have any item listed above that you would like to donate to CA, please contact Bill Turnage in the CA Business Office.
Concert Choir annual sale: The CA Concert Choir is taking orders for Classic Cookie Dough, coffee, and candles through September 8.  See any member of the group to make a purchase.  These purchases will help us raise money for our trip to New York City in the spring.

Fall Festival planning meeting: The annual Fall Festival is planned for October 25th from 10 A.M. until 2:00 P.M.  If you are a room parent, or would like to assist your class with Fall Festival preparations, please join us at the first planning meeting on September 3rd at 8:15 A.M. in the auxiliary gym.

Moms in Touch prayer group: Are you interested in praying for your child or children with other mothers?  A Moms in Touch group of praying mothers will begin meeting soon and will pray weekly for Clarksville Academy and their children.  Please contact Becky Bourne at 931-647-2752 with questions or to say you will join us.

Yearbook news: You may purchase your 2009 Clarksville Academy yearbook at www.jostensyearbooks.com.  Additional information regarding this year's edition will be published in an upcoming edition of the Monday Messenger.
Dates to remember:
September 4 – School Photo Day
September 18 – Chuck E. Cheese Spirit Night
September 29 – Spirit Week begins
Key Club corner: Key Club will not meet this week. All members (new and old) must pay $20 dues no later than September 12. New members must also pick up two teacher recommendation forms and have them completed and returned to Mrs. White by September 12.
Service Opportunities
September 5 & 6,  Riverfest
September 20, Franklin Frolic
September 27, LBL Clean Up Day
October 18, Kentucky Kingdom Zone Rally – cost is $30 per person
October 25,  Fall Festival helpers
Concessions workers are needed for all home football and volleyball games.
2009 Tennessee Governor's Schools for 10th & 11th Grade: Applications for 2009 Governor's Schools are available for 10th & 11th grade students online or in guidance in the following areas:  Agricultural Sciences, Computational Physics, Emerging Technologies, Engineering, Humanities, Information Technology Leadership, International Studies, Prospective Teachers, Science, Scientific Exploration of Tennessee Heritage, Scientific Models & Data Analysis and Arts.  The websites can answer many of your questions or concerns.
The Arts website:  www.gsfta.org.

Due in guidance Oct. 20, 2008: www.tennessee.gov/education/govschools
Due in guidance Oct. 31, 2008: Students in grades 9-12 interested in applying to Teen Court of the Montgomery County General Sessions and Juvenile Court may pick up an application from Ms. Mazzei in guidance or call Danette Woodcock at 931-648-5766 for more info.
Seniors: Massachusetts Institute of Technology (MIT) invites you and your parents to an information session on Sunday, October 5, at 3:00 P.M. at Montgomery Bell Academy, Nashville, TN.  For more information, go to http://web.mit.edu/admissions/falltravel.
The Clarksville Police Department is offering an excellent student driver awareness class called STAT (Student Traffic Awareness Training).  It is a "shock and awe" type class designed for drivers and permit holders at least 16 years of age.  If you have a student driver, this class is a must.  The next class dates are September 27 or October 25.  Students can pick up additional information and forms from Mrs. White at assembly or break.