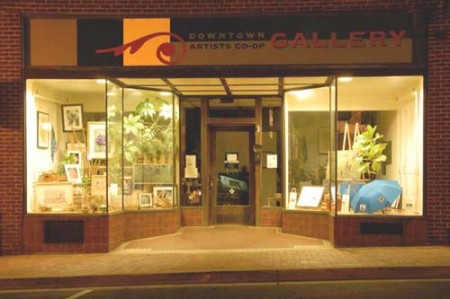 Tonight's First Thursday Artwalk sponsored by the Downtown Artist's Cooperative will feature works by numerous artists and could be an early start to holiday shopping for many visitors. The gallery will host a reception from 5-8 p.m.
The event includes a wine-tasting at the Roxy Regional Theatre, where works of art by Richard Hogan will be on display.  ArtWalk guests have the option of attending the 7 p.m. Roxy showing of the stage play The Crucible. While First Thursday Art Walk events are free, people also have the option of purchasing tickets for today's 7 p.m. showing of "The Crucible."
"DAC's new show is called 'Art Under $100,'" and many DAC members will have works on display that are prices at $100 or less.
Al Clark will be showcased at Betty's Antiques, 121 Franklin St. and also at Rogate's, 113 Franklin St. JuJus will host Judy Lewis. Hodgepodge, 125 Franklin St., will host Gabriele Wardeiner.