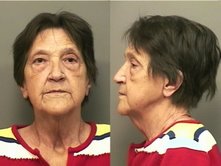 On December 3, 2008, a 76-year-old female was charged with Solicitation of Aggravated Arson.  The individual in custody is Dorothy Suggs (W/F, DOB 6/29/32, of Locust Street, Clarksville, and has a bond of $1,000.
On four separate occasions, Dorothy Suggs, approached an individual and offered them money to commit arson on a Duplex residence, which she owns, at 305 Locust Street, Clarksville.  Suggs advised the individual to place a candle next to a couch to start the fire.  The individual asked 'what if the occupants of residence were there'; Ms Suggs made a statement that she didn't care.  Dorothy Suggs was taken into custody and booked into the Montgomery County Jail.
The investigator is Detective Gary Hodges.