In the eight months since it opened Linda Cain's business Vision's Metaphysical Boutique has become one of the foundations of Franklin Street in Clarksville, TN. Visions specializes in catering not just to the body, but also to the mind and soul. Her shop is located just across from the Roxy Regional Theatre at 101 Franklin Street, the intersection of Franklin Street and South Third Street.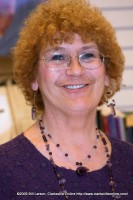 Owner Linda Cain first discovered Clarksville when her husband John was assigned to a tour of duty at the Fort Campbell Army base. She immediately fell in love with downtown Clarksville. After six years her husband was reassigned to Washington DC. When it came time for him to retire in 2001, they knew that Clarksville was the place that they wanted to call home.
The store has received a wonderful reception since it's opening. It took people awhile to find the store, but now that they know where it is, "I have a nice group of regular clientèle." Her business received a big boost after attending the Galactic Expo in Nashville, TN, where she was fortunate to meet roughly half a dozen local people who did not know her business had recently opened up in Clarksville.
Visions Metaphysical Boutique is Linda's first business and she is still learning the ropes. "I am learning as I go. I am getting the hang of it."
The atmosphere in the store helps people to instantly feel at ease. Much of the store's decor was furnished by Hodgepodge and Betty's Antiques, both Franklin Street businesses. Another important element is the art which decorates the walls. Most of the items were created by her two employees,  Afton Chandler and Amanda Harrison, but she is considering trying to open up some space on her walls for other local artists.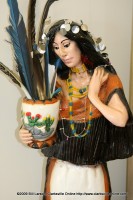 A wooden Native American Princess is the guardian of Visions, and it looks over the entry to the store. "When I touched it. I felt a connection to it", and so she knew it was to be her stores guardian.
Linda served as a nurse for 26 years. Based on that experience she knew people need more care than traditional medicine generally is willing or able to provide. She truly believes that her patients need help beyond their physical bodies, many also need help emotionally, mentally, and spiritually as well.
That lead her to Reiki and other forms of holistic healing. Reiki is a form of healing in which energy is channeled through the hands. According to reiki.org:
The word Reiki is made of two Japanese words – Rei which means "God's Wisdom or the Higher Power" and Ki which is "life force energy". So Reiki is actually "spiritually guided life force energy.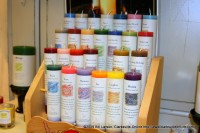 Besides traditional Reiki sessions, she also offers a variety of Reiki charged items such as handcrafted jewelry and candles. "I infuse it with Reiki energy when I make it" she said. The money candle is one of her hottest items.
Linda also offers angel readings in which spiritual guides use her as a conduit for their wisdom. This sounds like the stories told about the "sleeping prophet" Edgar Cayce, who also lived in this area. "Everybody can talk to angels, but the listening part is harder. That took awhile for me," she joked. Linda says that anyone can learn the ability to heal, "I always knew that I had gifts, but I did not know what they were or how to use them, until I got older," she offered. To help people discover their own unique gifts she now offers classes at her store.
Visions Metaphysical Boutique offers readings including intuitive card readings and angel readings. As well as crystals, and healing touch. They have a selection of crystal and geodes, as well as new age books (new and used) and music. The store also offers essential and aroma therapy oils. Sage, cedar, and sweet grass is available for smudging.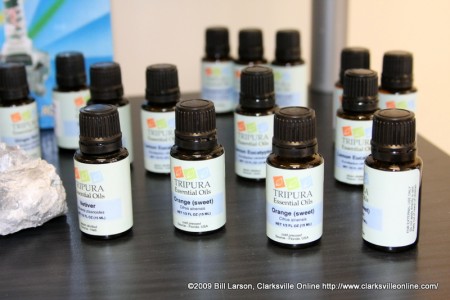 But do not go into Visions looking for the occult. "I wanted this place to be light and spiritual. While the store is not religious, I am a Christian. If somebody wants something that is occult or something like that, I can let them know where to go for that. But my guidance is not to have that items of that nature here."
Even if you do not believe in non-traditional methods of healing, stop by and say "Hello," you will find Linda and her staff to be friendly, and always willing to talk!
Visions Metaphysical Boutique is located at 101 Franklin Street in Clarksville, TN. You can reach Visions by phone at (931) 378-7576.