The MidSouth Real Estate firm known for it's bright red "For Sale" signs has been taking the color associated with its brand in an exciting new direction, raising funds for the troops.
Since Friday July 10, 2009, Crye-Leike, REALTORS agents and employees companywide have worn Red every Friday to show support for the troops. They have been participating in Crye-Leike's RED FRIDAYS campaign – wearing and selling specially made pins for $3 – to help fundraise for wounded service members and military families.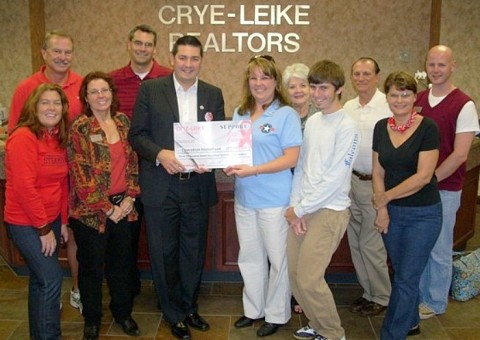 One hundred percent of the money raised through Crye-Leike's efforts will benefit Operation Homefront, a non-profit agency dedicated to supporting our troops and helping the families they leave behind – http://operationhomefront.net.
Crye-Leike, REALTORS agents and employees made their first big check presentation to Operation Homefront on Friday, September 18th at the company's Brentwood West, Middle Tennessee Regional Headquarters office. Agents and employees presented $3,771 to Operations Homefront representative Tina Englen. Crye-Leike's donations will specifically go to assist Operation Homefront's "Village" – a community where wounded service members and their families can live while the soldier is recouping. The "Village" also offers Foreclosure Prevention help to military personal and their families.
Crye-Leike Regional Vice President Rob Hatchett – who initially proposed the RED FRIDAYS community service project is very optimistic the company can make a significant and lasting difference in the lives of returning troops.
"The problems many of us face in our day to day lives doesn't come close to the struggles our service men and women face," said Hatchett. "I especially like the idea that our dollars will be supporting a program that works to ensure returning troops who own a home don't lose it to foreclosure – or find the assistance to purchase a home and can fulfill that part of the American dream."
RED FRIDAYS represents a long-term community service project commitment by Crye-Leike, REALTORS. Hatchett adds that it's the company's goal to carry-on RED FRIDAYS until all the troops come home.