The 12th annual Clarksville Native Cultural Circle Intertribal Powwow is coming up this weekend! The third annual Trail of Tears Memorial Walk will be held prior to the opening of the powwow on Saturday.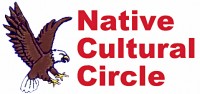 The chant begins and the drums follow, dancers enter the circle clad in bright colors, with open honest faces. They circle around once, twice, three times each dancer projecting their own clearly palpable welter of emotions. They exit the circle and the crowd gathers around them, it is a celebration. Welcome to the 12th annual Clarksville Native Cultural Circle Intertribal Powwow.
The Powwow showcases the culture, heritage, and traditions of all Native Americans. This years powwow is being held on October 10th and 11th . Located on Highway 238 in Port Royal, just past Port Royal State Park. The festivities start around 9:00 am on Saturday, and 10:00 am on Sunday. The Grand Entry which officially opens each day begins around Noon.
Everyone is welcome, it does not matter if you are a Native American or not! Being your family out and share in the fellowship that is such a huge part of Native American culture. Let the tranquility of the powwow grounds refresh your spirit.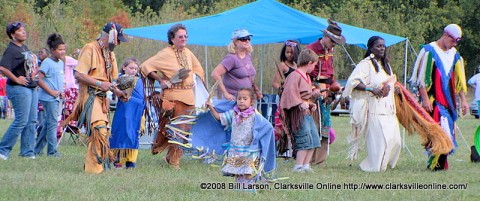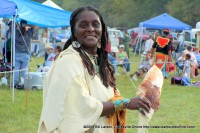 The Head lady this year is Jill Smith, the head man is Chris Crosby. Faron Weeks is the Master of Ceremony. Charles Page is serving as the Head Vet. Shawn Longfeather is the arena master. This year's Powwow Princess is Christa Koontz. The host drum is The White Horse Singers from Alabama. This year the guest drum is Southern Echo which hales from East Tennessee.
Traditional dances are part and parcel to powwows, there will be special children's and young peoples dances as well. Scheduled performers include the Hui Hawaii O Tenesi Hawaiian Civic Club, a storyteller and flute players. Like all festivals, vendors will be on hand, however Native vendors at powwows offer only authentic Native American jewelry, arts and crafts and clothing. There will also be vendors offering food and beverages for sale. The Host Drum, The White Horse Singers have their first Album available on CD for purchase.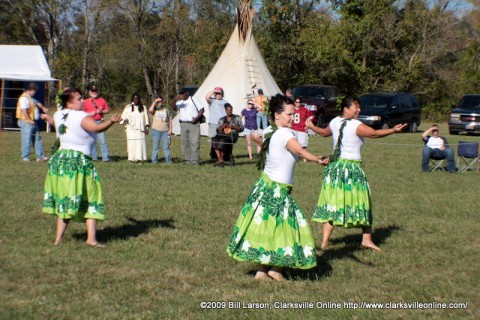 There is a small admission fee: Adults are 5$; Active duty military- with ID, and children, 15 years of age and under, are admitted free; Senior citizens 65 and older pay only $2. there is no charge for parking. Proceeds from the Powwow are used to purchase Native American textbooks which are donated to area school libraries. The NCC is an charitable education non-profit organization. Charitable donations are appreciated, and are tax deductible. Visitors are reminded to wear comfortable shoes, bring a lawn chair and wear sun cover and sunscreen.
NCC Trail of Tears Memorial Walk
Be sure to come out early on Saturday October 10th, and take part in the 3rd Annual NCC trail of Tears Memorial Walk which will begin at 10:00am. The walk remembers the forced removal of the native tribes from their homelands to the Indian Territory in what became the State of Oklahoma. Diary records of the removal mentioned Port Royal, the last stop before leaving Tennessee, as an encampment site where the Cherokee stayed to re-supply, grind corn and rest. Hundreds of Cherokee died during their trip west, and thousands more perished as a consequence of relocation.
Schedule of Events
A small note these times are approximate. Native Americans typically operate on what is jokingly known as "Native American Standard time," which basically means "it happens, when it happens".
Saturday
Gates open – 9 a.m.
Port Royal Memorial Trail of Tears Walk – 10 a.m.
Welcome – 12 p.m.
Grand Entry – 12 p.m.
Posting the colors and Flag Song
Demonstrations, dancing, and storytelling
Retiring of the colors
Activities end at 6 p.m.
Dinner for Drums, Dancers, Vendors, and Staff
Sunday
Gates open – 10 a.m.
Welcome – 12:30 p.m.
Grand Entry – 1 p.m.
Posting the colors and Flag Song
Demonstrations, dancing, and storytelling
Retiring of the colors
Activities end at 5 p.m.
Sponsors are appreciated
The Native Cultural Circle wishes to thank all of their sponsors again this year for their support in the festival booklet. Individuals, organizations and local businesses are encouraged to show their support for this local cultural celebration. Super 8 Motel, Huntco Drive and M.L.K. Pky, just left from I-24 Exit 11, is serving as honorary guest hotel.