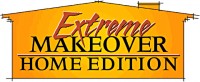 The house in Montgomery County being built as an Extreme Makeover: Home Edition project is almost complete.
The family will be returning home on Friday, October 23. The family is expected to arrive at approximately 2 p.m.
Spectators are encouraged to come out and welcome the family home and to join Ty Pennington in telling the driver to "Move that bus!"
Plan to arrive early to get a good front-row view of the house and close to the family as they see for the first time their new house constructed by hundreds of volunteers in the past week.
Follow the signs from Dover Road to the parking area behind Woodlawn Elementary School for the bus shuttle to the site. There will be no on-site parking.