Put it to good use with Trees to Trails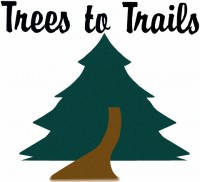 The Friends of Dunbar Cave are gearing up for their eleventh annual Trees to Trails project.
The first stage is the collection of Christmas trees. Remove all decorations including tinsel from the cut trees, drop them off at Dunbar Cave State park (401 Old Dunbar Cave Road). Christmas tree lots are encouraged to donate any leftover trees as well. The designated drop-off pile is located in the corner of the parking lot, at intersection of Dunbar and Old Dunbar Cave Roads.  Please remove all plastic coverings from the tree when you drop it off, and take them with you.  The park is open daily 8am until sunset. Trees will be accepted through January 10.
No other types of plants or vegetation are allowed. Why only Christmas trees? Typically the trees are grown on farms for this specific purpose, or harvested from the wild. These trees make mulch ideal for protecting soil and tend to be free of any invasive species that could then spread like wildfire throughout in the park.  The mulch helps enriches the soil, and controls erosion without introducing unwanted plants to the trails. In the past the mulch has been used on walking trails, around picnic tables, and  along the earthen dam.
The second phase of the project is the shredding of the collected trees by volunteers from CDE.
The final phase of the project is the spreading of the mulch. On April 17th volunteers will spread this mulch.  Scout troops and other community groups are invited to bring a rake and join the Friends of Dunbar Cave spread the mulch and enjoy each others' company. There will be a public announcement once a specific date is set, keep checking Friends of Dunbar Cave website for more details.
These project is sponsored by the Friends of Dunbar Cave, a non-profit organization dedicated to preserving Dunbar Cave State Natural Area. Become a member, or make a tax deductable donation today! For more information call the Dunbar Cave State Natural Area Visitor's Center at  648-5526.
Photo Gallery
Images of the Trees to Trails program in 2009. Photos contributed by Debbie Boen and Adam Neblett

Submitted by Richard & Meredith Gildrie on behalf of Dunbar Cave.