MOREHEAD, KY – The final nine and a half minutes of the first half proved to be the fatal moments as Austin Peay State University women's basketball team dropped its sixth-straight contest with a 79-56 Ohio Valley Conference loss at Morehead State, Saturday night, at Johnson Arena.
Austin Peay (3-11, 2-1 OVC) kept the game close throughout the opening 11 minutes, grabbing the lead twice and forcing one tie. After Austin Peay grabbed its last lead, 12-11, with 13:01 remaining, Morehead State used a 9-2 run to build what was then its largest lead, 20-14, with 10:39 left. The Lady Govs battled back with the next four points and closed within two points, 20-18, at the 9:33 mark after freshman Meghan Bussabarger made one of her two free throws.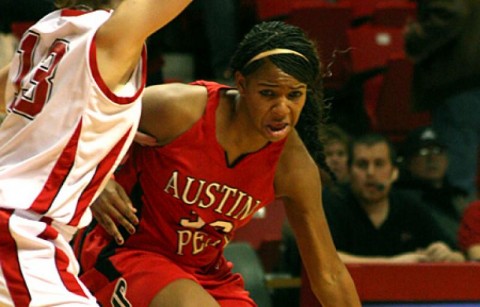 But from there, Austin Peay's offense went stagnant making just 2 of its final 11 field goal attempts in the half, including missing all three of its three-point attempts. Adding to their woes, the Lady Govs committed seven turnovers, including a stretch of three straight miscues.
Morehead State (10-5, 3-0) took full advantage of the lull, using a 20-5 half-ending run to take a 40-23 lead into halftime.
Austin Peay opened the second half with a 6-2 run to cut the lead to 13 points with 16:44 remaining, but would get no closer. Morehead State scored 10 of the next 13 points to build a 20-point, 52-32, advantage three minutes later and did not look back.
Junior Ashley Herring led Austin Peay with 13 points and added nine rebounds. Senior Nicole Jamen chipped in an 11-point, 12-rebound double-double performance.
The Lady Govs defense saw its struggles continue as Morehead State made 41.4 percent (29-of-70) of its field goals, including 44.4 percent (12-of-27) of its three-point field goal tries. Austin Peay also could not force any turnovers, Morehead State committing just 10 miscues against APSU's 19 turnovers.
Junior Chynna Bozeman led Morehead State with 24 points, seven rebounds and four assists.
Austin Peay returns to action with a 4:30 p.m. (CT), Monday contest at Eastern Kentucky.