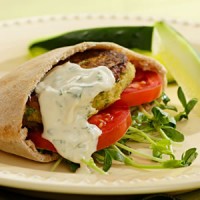 Falafel is a dough made with chick peas or garbanzo beans and lots of spices. Its deep fried and that is perhaps why this southern U.S. girl likes it so much. Falafel is pronounced FA-LAW-FULL with the emphasis on the middle syllable. Both the 'a' sounds are like the British sound in "laugh".
I had never had falafel until about 5 years ago when the children were studying Israel in school. I bought a mix from the store and made it here at home, It was very delicious and the whole family enjoyed it. Later, I was given a recipe by a friend to make homemade falafel. There is no comparison in the taste. I always make the homemade now. If you've never tried falafel and you're not very fond of trying new recipes, I suggest that you buy a mix and try it first. But if you're game for something new in the kitchen, try my homemade falafel recipe with the accompanying yogurt sauce.
Falafel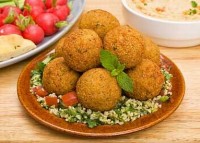 1 cup dried chickpeas
1/2 large onion, roughly chopped (about 1 cup)
2 tablespoons finely chopped fresh parsley
2 tablespoons finely chopped fresh cilantro
1 teaspoon salt
1/2-1 teaspoon dried red pepper
4 cloves of garlic
1 teaspoon cumin
1 teaspoon baking powder
4-6 tablespoons flour
Put the chickpeas in a large bowl and add enough cold water to cover them by at least 2 inches. Let soak overnight, then drain. Or use canned chickpeas, drained. I have better luck with canned beans but I know it is cheaper and probably more healthy to use dried ones depending on whether or not they are organic.
Place the drained, uncooked chickpeas and the onions in the bowl of a food processor fitted with a steel blade. Add the parsley, cilantro, salt, hot pepper, garlic, and cumin. Process until blended but not pureed.
Sprinkle in the baking powder and 4 tablespoons of the flour, and pulse just a time or two. You want to add enough flour so that the dough forms a small ball and no longer sticks to your hands. Turn into a bowl and refrigerate, covered, for several hours.
Form the chickpea mixture into balls about the size of walnuts. Did you know that there are such tools as falafel scoops? They are available in Middle-Eastern markets. I use my cookie dough scoop which is about the same size. You can also make patties instead of balls.
Heat 3-4 inches of oil to 375 degrees in a deep pot and fry 1 ball to test. If it falls apart, add a little flour. Then fry about 6 balls at once for a few minutes on each side, or until golden brown. Drain on paper towels.
We enjoy falafel stuffed into homemade pita bread and then we add chopped tomato, lettuce and the following yogurt sauce.
Yogurt Sauce for Falafel
1 cup whole milk yogurt
3 tablespoons tahini
1 teaspoon finely minced garlic
2 teaspoons fresh lemon juice
sea salt, to taste
ground pepper, to taste
Another Yogurt Sauce – Our Favorite
3/4 cup no-fat, plain yogurt
3 tsp minced garlic
2 T fresh lemon juice
1 T dill leaves
salt to taste
About Sylvia Britton
Sylvia Britton is a Clarksville native and owner of the Christian HomeKeeper™ Network website and ministry. She and her husband Mark are the parents of 5 children and grandparents to two little girls.  She enjoys reading, mentoring women, writing articles for several magazines, gardening and Tennessee history.

Web Site: http://www.christianhomekeeper.org
Email:
Sections
Arts and Leisure
Topics
Cooking, recipes