Sometimes you just don't know your own strength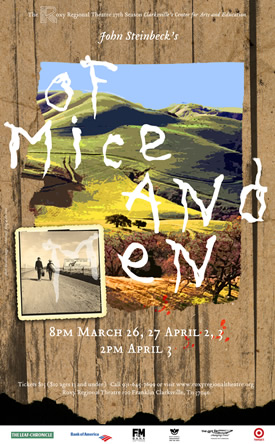 As the play begins, we are introduced to quick witted George Milton (Gili Getz) and simple minded Lennie Small (Kevin Hauver) , two friends, migrant ranch workers who are making their way through the depression era country side as they head to a new ranch where they are hoping to get work.
Stopping for the night before arriving at the ranch we learn that Lennie doesn't realize his own strength, and that he has an attraction for tactile sensation. He likes soft things, this is something that has caused problems for him in the past. We also learn that George and Lennie share a dream of owning a ranch of their own.
Dreams are a theme that echos throughout the Steinbeck's book and the Roxy's adaption of this play.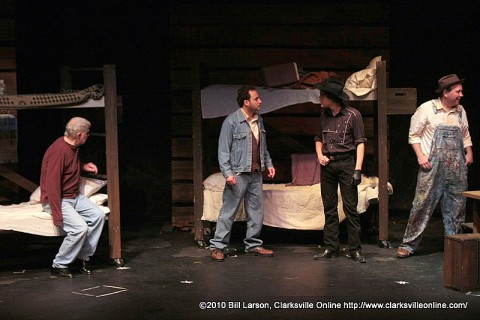 Arriving at the Ranch we are introduced to rest of the cast: the Boss (Phil Whittinghill); one handed Candy (Jay Doolittle) ranch hands Whit (Collin Smith), Carlson (Brian Veith), and Slim (Bryan Zoppi); the cruel Curley (Matthew Patrick) and his overly flirty wife (Jessica Shearer Wilson); and the lame stable buck Crooks (Shadae Lamar Smith).
I am not going to talk any more about the plot because I don't want to ruin the story for you. But let me say this, the cast in this performance is top notch.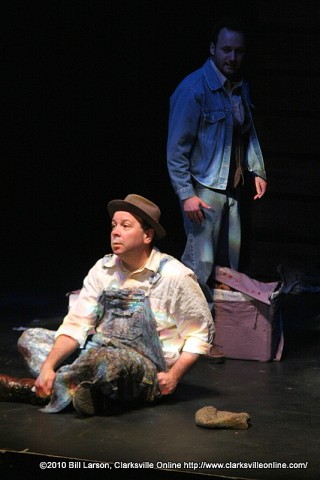 Kevin Hauver who plays Lennie never slips out of his character even for an instant, I know because I watched his eyes.
Gili Getz already has a tough job protecting Lennie, but in the end he has an even tougher job ahead of him. He handles the role very well.
Jay Doolittle has been a great treasure during his time at the Roxy, his roles in the various productions have all been very strong characters, and were well played.
Jessica Shearer Wilson played Curley's wife, an aspiring starlet who sacrificed her dreams when she married Curley. Curley's jealousy isolates her as none of the men want to risk his wrath by even talking to her. This was Jessica's second role at the Roxy and I think she has a very bright future ahead of her.
The rest of the cast are the foundation the show was built on. You can have the best actors in the world but without a strong supporting cast any show can be a flop. That wasn't the case with this show, as each actor was a perfect fit for their individual roles.
I have spoken with several individuals who have attended this play and every one of them were stunned by the intensity they experienced watching this show. Clarksville Online author Blayne Clements said "Gill Getz and Kevin Hauver were excellent, as George and Lenny. Jay Doolittle put on one of the best performances I have seen him do as Candy." Hank Bonecutter from 1400 WJZM said "The play was very well done, we didn't want it to end, and when it did we were overcome with emotion".
There are three showings remaining for this play. 8:00pm on Friday April 2nd; and a 2:00pm matinee, and a 8:00pm evening show on Saturday April 3rd. If you have not yet attended a showing, you really need to go! Tickets are $15 for adults and $10 for children 13 and under.
I was a bindlestiff myself for quite a spell. I worked in the same country that the story is laid in. The characters are composites to a certain extent. Lennie was a real person. He's in an insane asylum in California right now. I worked alongside him for many weeks. He didn't kill a girl. He killed a ranch foreman. Got sore because the boss had fired his pal and stuck a pitchfork right through his stomach. I hate to tell you how many times I saw him do it. We couldn't stop him until it was too late. — John Steinbeck, interview by The New York Times, 1937