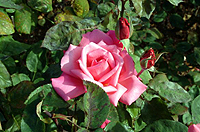 A Devotional By Brother Shepherd
I guess as I grow older in life, life becomes more precious to us. We think about how we have less days than before and it helps us want to live every day to the fullest in serving Him.
I was thinking about Ecclesiastes the 3rd chapter 1st verse-verse 8. It talks about the necessity of change in all things except, the love of God never changes. If you would permit me, let me read it to you.
Ecclesiastes 3:1 says, "To every thing there is a season, and a time to every purpose under the heaven: verse 2.  A time to be born, and a time to die; a time to plant, and a time to pluck up that which is planted; verse 3. A time to kill, and a time to heal; a time to break down, and a time to build up; verse 4. A time to weep, and a time to laugh; a time to mourn, and a time to dance; verse 5. A time to cast away stones, and a time to gather stones together; a time to embrace, and a time to refrain from embracing; verse 6. A time to get, and a time to lose; a time to keep, and a time to cast away; verse 7. A time to rend, and a time to sew; a time to keep silence, and a time to speak; verse 8. A time to love, and a time to hate; a time of war, and a time of peace."
What brought these verses to mind today was this morning as I stood in my kitchen looking out the window behind the sink; I saw the beautiful front yard and Blanche's potted plants hanging from our porch and the birds sitting on the telephone line, and it was a beautiful scene. A few months ago there were no flowers, the grass was brown and lifeless, and no birds in the sky but, in time God changed that with a coming of a new season.
What really caught my attention was the hanging plants on our porch. It would have been a beautiful scene without them there but, they added a beautiful accent to the scene. I beheld their beauty and I thought about how when Christ comes into our lives, our lives become more beautiful because the Rose of Sharon has made a difference.
The thought came to my mind that if I will let the Rose of Sharon, Jesus Christ grow in my life, I can help change the scene of somebody else's life. I ask myself a question. Shep, am I a rose or a weed?
This is Bro. Shep asking you to think about this.  
P.S. Matthew 28:18-20
"If you are growing, you are going"