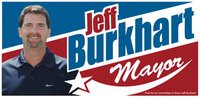 Mayoral Candidate Jeff Burkhart will be holding a Military Appreciation BBQ this Saturday, October 16th, at Clarksville Speedway located on 1600 Needmore Road.  He would like the opportunity to thank all military personnel, veterans and their families for the sacrifices they have made and continue to make for the freedoms we enjoy. The BBQ will be free and take place from 3:00pm-5:30pm. Everyone who attends is welcome to stay for the races and will get 50% off their entrance fee. Races begin at 6:00pm.
For more information, Jeff or a staff member can be reached by calling 931-645-9015, by email at or via the web site at www.burkhartformayor.com.
Editor's note: This is a news release from a political campaign,  and our publication does not constitute an endorsement or political advertisement for the campaign.  Any candidate for public office is welcome to submit campaign releases to . These are published as our schedule allows.
Sections
Politics
Topics
Clarksville Mayor, Clarksville Speedway, Election 2010, Jeff Burkhart, Military Appreciation BBQ