Topic: Clarksville Speedway

Clarksville, TN – Have you ever wanted to travel the world? Cirque Italia has pulled out all the stops this year to take you on a magical trip around the globe.
Can you guess where our final destination will be? Trust us Clarksville Tennessee this is one adventure you cannot afford to miss! And it'll only be here for one weekend!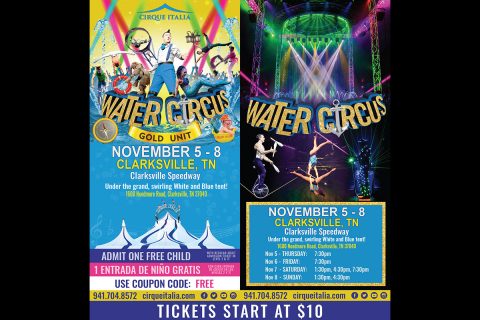 «Read the rest of this article»

Clarksville, TN – Clarksville Police wants to make drivers traveling Needmore Road and Hazelwood Road aware that Pisgah Elementary School is participating in National Bike to School Day on Wednesday morning, May 8th, 2019.
They will be leaving from the Clarksville Speedway at 7:00am, turn left on to Needmore Road, then Right on to Hazelwood Road arriving at Pisgah Elementary.
«Read the rest of this article»

Clarksville, TN – Ever wonder what a Water Circus is all about? Come out to the Clarksville Speedway May 2nd-5th, 2019 and find out. With a new twist on the word "Circus", Cirque Italia is presenting a new modern age show like no other.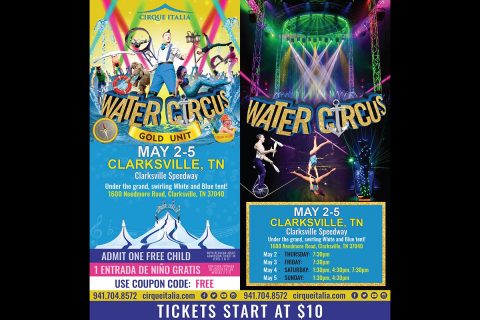 «Read the rest of this article»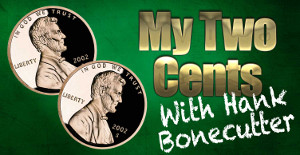 Clarksville, TN – In a media career that spanned over 40 years, I've been blessed to have met a lot of incredible people. Rock stars, celebrities, politicians and more.
But what I've enjoyed the most is meeting people who've been dealt a bad hand, but have persevered and made the most of their life. They refuse to let their circumstances dictate who they are.
This is just that kind of story.
«Read the rest of this article»
Clarksville, TN – City of Clarksville street, transportation and public safety departments remained fully staffed Tuesday to provide services and protection to residents even as City Government offices closed amid a second wave of snow and hazardous travel conditions across the region.
"I want to compliment the hard work of our Street and Public Safety departments battling the impact of the storm," Clarksville Mayor Kim McMillan said at midday Tuesday. "It's been a cold, long haul since this all started early Friday."
«Read the rest of this article»

Nashville, TN – To commemorate Tennessee's annual Carbon Monoxide Awareness Day (September 18th) the mother of a carbon monoxide victim is speaking out in a powerful testimonial video from the Tennessee State Fire Marshal's Office (SFMO) highlighting the dangers of carbon monoxide poisoning.
Clarksville resident Christine Watson is raising awareness of carbon monoxide poisoning which claimed the lives of her daughter and son-in-law (Jon and Kathryn Watson Over) as well as their three friends (Jim Wall, Tim Stone and Allison Bagwell-Wyatt).
«Read the rest of this article»
Written by Stephanie Smothermon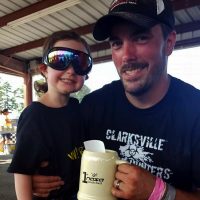 Clarksville, TN – During the week, you may see local attorney Eric Yow in the courthouse downtown, but on the weekend he is probably racing for the win in his Corvette Z06. Yow is fast – really fast – holding track records at the National Corvette Museum Motorsports Park as well as Memphis International Raceway. Thus far, in 2017, he is undefeated and has his eyes set on a National Championship this October!
Yow just returned from a win at Road Atlanta in Braselton, Georgia, where he competed for the fastest lap time in Time Trials with the National Auto Sport Association. In a class loaded with several talented and more experienced drivers, Yow plowed ahead to set the fastest time for his class (TT2) and ultimately two wins, on Saturday and Sunday, June 17th and 18th.
«Read the rest of this article»

Clarksville, TN – On Wednesday, May 4th, 2016, Pisgah Elementary School, the Montgomery County Sheriff's Office, and the Clarksville Police Department's Traffic Unit joined children and families for their bike rides to school on National Bike to School Day.
National Bike to School Day was created to provide an opportunity for schools across the nation to join together to celebrate the energy of National Bike Month.
«Read the rest of this article»
Clarksville, TN – It's been a few months for the Clarksvillain Roller Girls, but they're ready to rumble on Saturday night, February 6th, 2016 as the Clarksvillain Roller Girls take on Nashville in their season opener. And after the opening bout we have a charity bout mixer! Call up your friends and get a front row seat for all the action!
"The Clarksvillains have been working really hard in the off season. We even had a private clinic with a skater from the Houston All Star Team!" says Clarksvillain Tiffani Morehead. "Continuing to push ourselves and take on new skills to use on the track. We're very excited and can't wait to show our fans how much we've grown."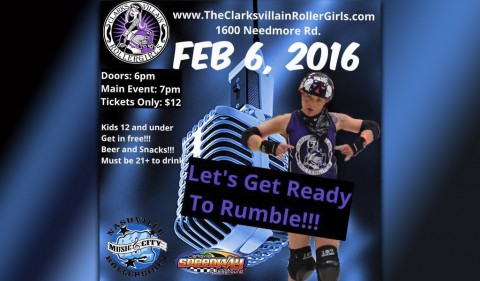 «Read the rest of this article»
Clarksville, TN – The ClarksVillain Roller Girls final game of the season is Saturday, October 17th at the Clarksville Speedway. The zombie-themed bout starts at 7:00pm, and doors open at 6:00pm.
There will be a live band at halftime and a zombie costume contest. So, arrive dressed to impress (the zombie judges, that is) and get there early for good seats!
After a great season putting new skills to the test, adding new members, and taking on new teams in the region the girls are excited to play the Southern Illinois Roller Girls in their final bout of the season.
«Read the rest of this article»