APSU Women's Basketball

Beaumont, TX – Austin Peay State University women's basketball team lost its third straight overall and second Preseason WNIT contest, 72-57, to Valparaiso, Friday, at Lamar University.
For the Lady Govs, the game boiled down to a pivotal second-half stretch where Valpo used a 15-5 seven-minute run to take a 61-48 lead with 6:22 to play. During that stretch, the Crusaders ripped off three three-pointers and forced six Austin Peay turnovers.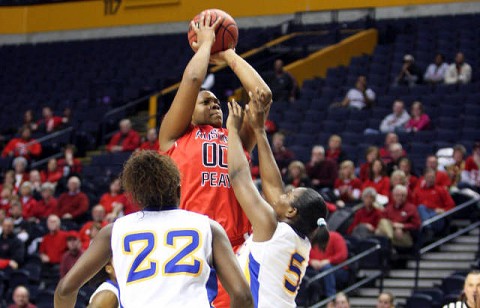 The hole was too deep for Austin Peay (0-3) to climb out, especially behind a poor shooting performance from junior Whitney Hanley. Hanley went 1-for-14 from the floor and 0-for-9 from behind the arc. Only the Lady Govs two inside players – senior Dalili Thomas (11 points, 8 rebounds) and junior Jasmine Rayner (12 points, 8 rebounds) – finished with double-digits and that effort could be linked to a 40-36 Austin Peay rebounding advantage.
At the break, Austin Peay trailed by four points, 34-30. The Lady Govs were down by as many as nine points with 3:41 to play. A five-point run consisting of a put-back by senior Salem Richardson, a three-pointer by sophomore Nikki Talley and a layup by Thomas, made it a two-point game 30-28. Richardson would then tie it at 30-all, before a pair of free throws and a late jumper by Valpo set the halftime score.
The Crusaders (1-1) struggled to regain that momentum in the second half, as the Lady Govs traded baskets with them in the early going. While Valpo built a seven-point lead, Austin Peay brought it within two points, 45-43, with 13:23 left on a jumper by Rayner. Valpo's Gina Lange then knocked down a three-pointer to spark the deciding run.
Betsy Adams did most of the damage for the Crusaders, finishing with 20 points and five rebounds. Ashley Timmerman, who fueled the late run with back-to-back three-pointers, had 16 points and seven boards.
Austin Peay wraps up Preseason WNIT play with a 1:00pm, Saturday, game against the winner of Lamar and Utah Valley State.