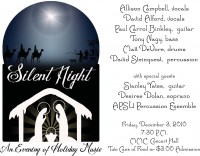 Clarksville, TN – Mark your calendar for a concert you don't want to miss on Friday, December 3rd, 2010 at 7:30pm in the MMC Concert Hall at Austin Peay State University.
"Silent Night – An Evening of Holiday Music" showcases a band including Allison Campbell and David Alford on vocals, Paul Carrol Binkley on guitar, Tony Nagy on bass, Matt DeVore on drums, and David Steinquest on percussion. There are also featured guests Stanley Yates on guitar, Desiree Dolan on vocals, and the APSU Percussion Ensemble.
The concert is an eclectic mix of Christmas standards in new arrangements (Silent Night, Hark the Herald Angels Sing, It Came Upon a Midnight Clear, Angels We Have Heard on High, Away in a Manger, Tennessee Christmas, and Wonderful Christmas Time) and some less well-known tunes deserving more attention (In the Bleak Midwinter, Little Road to Bethlehem and December). Musical influences range from Amy Grant to Norah Jones, Paul McCartney to Kenny G, and Shawn Colvin to Erin O'Donnell and Rosie Thomas.
Allison Campbell is a free-lance photographer in the Nashville area. She is an arranger for Row-Loff Productions and has pieces for percussion ensemble being performed at the Percussive Arts Society International Convention and the Midwest International Band and Orchestra Conference this fall.
David Alford is professor of theater arts at Martin Methodist College in Pulaski. He served as the Executive Artistic Director of the Tennessee Repertory Theatre and formed the Mockingbird Theatre. His television and film credits include principal roles in "A Death in the Family" (PBS Masterpiece Theatre) and "The Last Castle" (Dreamworks).
Paul Carrol Binkley is a free-lance musician in Nashville. He spent a number of years as guitarist for the legendary country band Alabama. He formed Heartdance Music and has recorded four cds including his Christmas album, "Do You Hear What I Hear". His music has been heard on "Music From the Hearts of Space" and 'All Things Considered".
Tony Nagy is presently the bass player for country artist Teri Clark. He has performed with jazz artists such as Dave Samuels, Vinnie Coluita, and Jeff Coffin, and country artists such as Stealin' Horses, Lee Roy Parnell, Mark Selby, Jameson Clark, and Lynn Marie and the Boxhounds.
Matt DeVore is the teacher of a large private studio at Mary's Music. He was an active session player at Predilection Studios during his time in Bowling Green, Kentucky. Matt spent time on the west coast and was signed to a recording contract by Jet Speed Records as drummer for the rock group Gear.
David Steinquest is professor of percussion at Austin Peay State University. He plays regularly with the Nashville Symphony including their concert at Carnegie Hall as well as on their Grammy Award winning recording of the music of Joan Tower. His music is published by Row-Loff Productions, Studio 4 Music, and Pioneer Percussion.
Stanley Yates is professor of guitar at Austin Peay State University. He is recognized internationally as a virtuoso performer, recording artist, teacher, arranger, and scholar. Stanley has recordings on Heartdance Music, Aeolian Recordings, and Reference Recordings. His Stanley Yates Series is published by Mel Bay Publications.
Desiree Dolan is the director of the DeGraffenried Chorale in Russellville, Kentucky. She is a voice instructor for the Austin Peay State University Community School of the Arts. Desiree is also a member of the Nashville Symphony Chorus and is often called on to sing solo parts.
The APSU Percussion Ensemble is comprised of both music majors and non-majors. The group plays at least one concert per semester. The Percussion Ensemble Halloween Concert has become a university institution. This year was the 26th edition and, as usual, sold out both performances.
Admission to "Silent Night – An Evening of Holiday Music" is two cans of food, donated to Loaves & Fishes, or $3.00. Tickets go on sale Wednesday, December 1st, 2010, in the Music Office. For more information, contact Norma Jean Smith at 931-221-7818.