APSU Men's Basketball

Clarksville, TN – Josh Terry scored  a career-high 22 points and keyed a defense that limited Eastern Kentucky to 36.5 percent shooting from the floor as Austin Peay State University claimed a 78-51 Ohio Valley Conference decision, Saturday night, in Dave Aaron Arena.
The victory improved APSU to 7-6 overall and 3-3 in the OVC, while Eastern Kentucky slips to 5-6 overall and 1-2 in the OVC.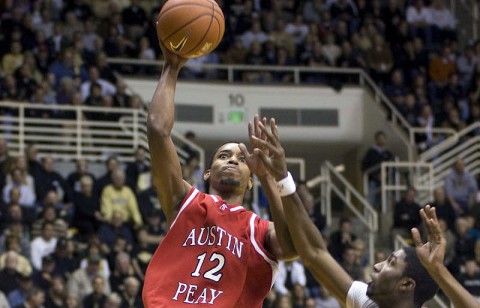 Terry, the 6-5 junior transfer from Three Rivers Community College, scored 14 first-half points on six-of-eight shooting as the Governors built a 40-25 halftime advantage. He finished the night 8-of-10 from the floor plus six-of-seven from the line while dishing out three assists and coming up with three steals.
It was the Henderson, KY, native's defense on EKU preseason All-OVC selection Justin Stommes that had perhaps an even greater impact. Stommes, the 6-7 forward/guard, was held to just six points on three-of-eight shooting. Averaging eight three-point attempts per game entering the contest, Stommes was unable to attempt a three pointer against Terry's defense.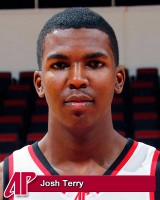 Led by Terry, the Governors limited the Colonels to just 19 of 52 from the floor and only 3-of-18 (16.7 percent) from three-point land.  EKU entered the contest second in the OVC in both three pointers made (7.4/game) and percentage (37.4 percent).
APSU never trailed in the contest as John Fraley's offensive rebound and dunk gave APSU the lead for good at 6-4. TyShwan Edmondson's jump shot with 2:35 left in the first half gave APSU its first double-digit lead at 33-23.
Eastern Kentucky would cut APSU's lead to single digits just once, 51-42, in the second half when Taylor Filipek, but Terry's two free throws quickly put it back to 11 and then guard Caleb Brown's tip-in made it a 55-42 game with 10:15 left.  Those two buckets initiated a 15-0 run that put the contest away.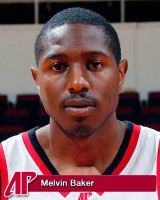 For a third straight game, junior forward Melvin Baker scored in double digits, scoring 14 to go with a team-high eight rebounds. Edmondson added 12 points in a relatively quiet night for the OVC's leading scorer while Fraley tossed in 10 points. He added seven rebounds as APSU held a significant 38-27 advantage on the boards.
Spencer Perrin was Eastern Kentucky's only double-figure scorer with 11 points.
The Governors will attempt to get out to a 4-0 OVC start when they play host to Preseason OVC Player of the Year, Kenneth Faried, and Morehead State, 7:30pm, Tuesday night.