Clarksville, TN – On December 17th, 2010, around 2:02pm, officers responded to a 911 call about a nine year old male who got home from school and could not get into his house where his four year old brother was inside and alone. The neighbor told officers when he went over to the nine year olds house it was locked, but he could hear someone inside trying to unlock the door.  The neighbor was able to help the nine year get into the residence.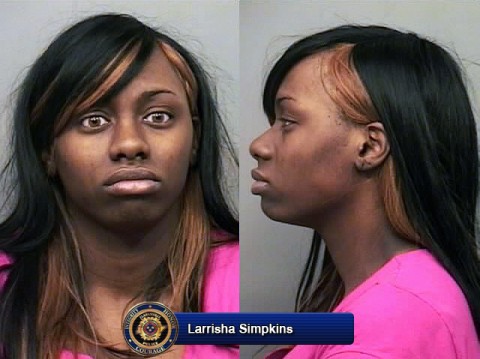 When they entered, the four year old was found inside without adult supervision and with a soiled diaper. Officers attempted to contact the mother by cell phone after they arrived, but were not able to contact her. She later told officers that her cell phone was not working due to a spent battery.
The mother, Larrisha Loletta Simpkins, showed up at the residence about an hour after officers arrived on scene. Simpkins told officers that she had walked to the school to meet the nine year old, but the buses left with him before she arrived.  
She also told officers that she had asked a neighbor to watch the four year old while she was gone; officers were not able to verify a neighbor had been asked to watch the child. Additionally, Simpkins told officers that she did not drive to pick up the nine year old because she had lent her vehicle to a friend, but was unable to provide contact information for the friend.  
Larrisha Simpkins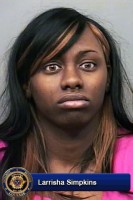 Name: Larrisha Loletta Simpkins (B/F)
DOB: 12/27/85
Given Address: 571 Cades Cove, Clarksville
Booked Into: Montgomery County Jail
Charged With:  Aggravated Child Neglect, Child Neglect, and had three other outstanding traffic related warrants served when booked in. 
Bond: $38,000. 
The children were turned over to a family friend.